Okay, kale, it's green. IT'S GREEN. It's also very bitter. This is the first time I'm eating it raw. I've had it cooked in butter, and that's always a good thing. I read an article of the benefits of eating lots of kale. Which, I already knew, but it's GREEN. It said that kale is king of green foods. It's packed with calcium, minerals, vitamins, fiber and great for those detox'ers. I thought, "What the hell. Why not? I'll just add my Dijon dressing to it, and all will be right." All the while, keeping my fingers crossed.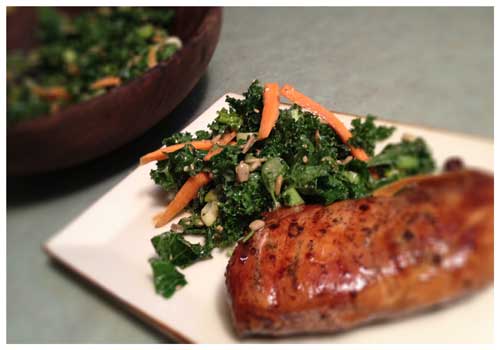 I took a few handfuls of chopped kale (about 2 cups). Since I didn't have shredded carrots, I stole a few off the bunnies. Shhh! Buy a bag of shredded carrots, or julienne two small carrots.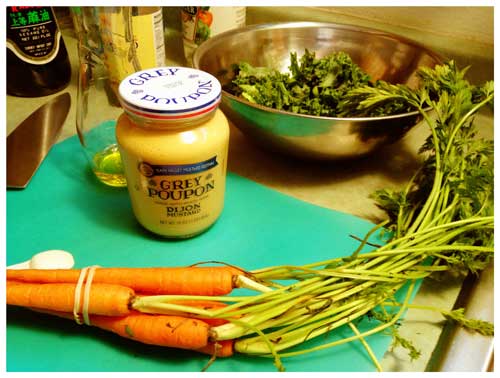 Use about 1/4 cup of parsley and sliced green onions. Add about two tablespoons of sunflower seeds, and one tablespoon of sesame seeds.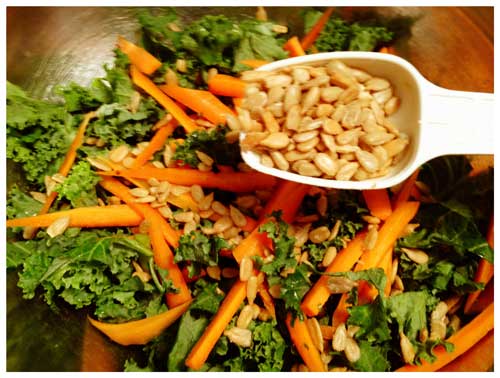 Season with ground sea salt and ground black pepper. My mistake, I was thinking, "This is going to be one bitter salad," that I added too much salt. – Trust me, it's so good that you only need a little.
For my Dijon dressing: Mix together one tablespoon of EVOO and Dijon. Add in one teaspoon of vinegar. – Whisk.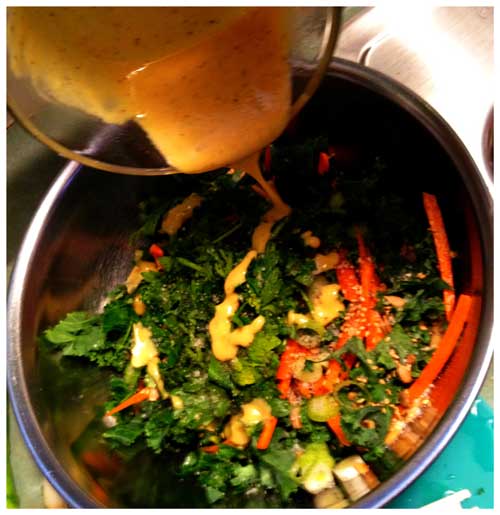 Drizzle over the greens and toss. This salad is moan worthy.
Secret ingredient: Pair this salad with a Belgian Pale Ale, or even a Blue Moon.
Please share your ideas because this girl likes to eat.