Breakfast is my favorite meal. Mostly because I always have bacon. Since we moved into our new home, we've had overnight guests just about every weekend. Absolutely love a full house for breakfast served with mimosas.
This recipe is my sister, Donna's. I'm also thinking that it's a Pittsburgh thing because I know a lot of people who serve their fried potatoes with sugar and onions. It's the best!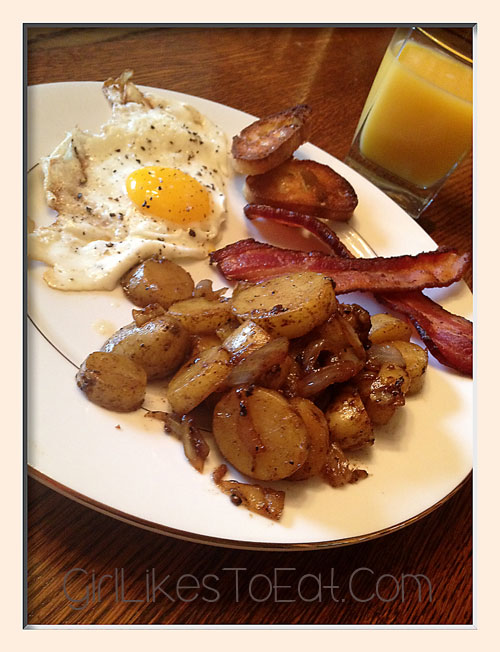 You'll need:
1/2 stick of real butter
1 (24 oz.) bag of fingerling potatoes, sliced
1/4 cup of brown sugar
1 1/2 cups of sweet onion, chopped
4 garlic gloves, minced
Sea salt and fresh ground pepper, to taste
Let's get started.
Brown butter in cast iron skillet on medium-high heat. Once the butter is brown, stir in the potatoes and cook for three minutes.
Reduce heat to medium and add in the brown sugar, onion, garlic, salt and pepper. Keep tossing the potatoes until soft and onions are slightly blackened with a caramelized coating. This takes roughly five minutes.
Serve with your favorite breakfast eggs and bacon (of course). This is even great with your favorite dinner.
The cast iron skillet is the secret. I've made this same recipe in a non-stick skillet and they do not taste the same.
Do you use sugar in your fried potatoes?