When creating a name for the recipes, I want to use every ingredient. All of those sound scrumptious.
It's Friday night happy hour at my house. Grabbed me a Magic Hat (or 2), and turned on Pandora's Foreigner station. It's not all Foreigner. It's a mix of Journey, Bon Jovi, and a few others similar to the era.
Good times…
My friend Cheri asked me to try something using dark chocolate and beer, so I came up with this…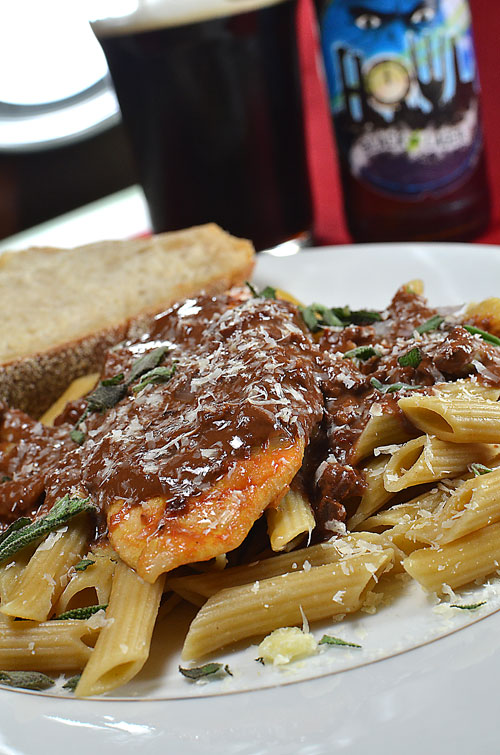 Adding dark chocolate (DC) and a lager to red sauce dishes give the recipe an amazing lift to hearty goodness. You might think that adding DC would make the food sweet, but if you use an 82 percent cacao bar, you will be amazed. Not to mention, this recipe is spicy. Glen's not a fan of DC, but really enjoyed this plate of happiness. He said, "This is interesting in a good way!"
Next time you make chili, pasta sauce, really, any red sauce dish, add in a little DC. I dare you.
You'll need…
1 pound of pasta (whatever you fancy)
1/2 stick of butter
4 chicken breasts
4 shallots (finely chopped)
1.5 tablespoons of red pepper flakes
1/4 cup of real bacon
24 ounces of no salt added tomato sauce
1/2 cup of Magic Hat Black Lager
1.5 ounces of 82% cacao (about 1/2 of a dark chocolate bar)
Fresh ground pepper
Sea salt
Parmesan (freshly grated)
A bunch of fresh sage (chopped)
Loaf of Pain de Campagne
Time to get the party stared…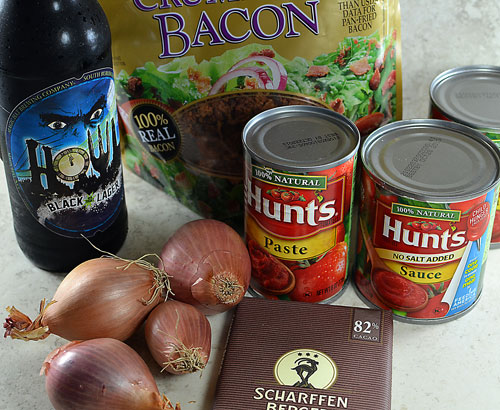 Here are 'some' of the ingredients. By some, I mean, I thought I had all the ingredients set up for the photo shoot. As I was preparing the sauce, I had realized that I didn't. Oh well. The problem is that I got so excited, it slipped my mind.
Use real bacon crumbles. I'm a big fan of fresh everything, but using the bacon-already-crumbled-in-a-bag helps save time, especially, when you are coming home from a long work day.
Also, I like Hunt's 'no salt added' tomato sauce. This is a salty recipe to begin with, so you want to pull back on it where you can. The recipe calls for 24 ounces – I used three 8 ounce cans.
If you haven't had Magic Hat Black Lager, I suggest you do. Especially, if you like Guinness. I usually use Guinness in my red sauce foods, but I wanted to try it. It's perfect to eat and drink.
I have no idea why I put a can of tomato paste in the shot. I'm laughing my ass off. Again, excited to get cooking, I must have grabbed the wrong can for the picture. I assure you that I didn't add it to the sauce. The sauce is already thick and does not need more oomph from the paste.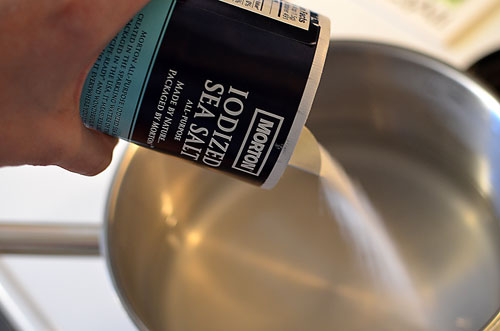 First up…
Boil the water. Add in a little salt. I'm a big fan of sea salt and so happy that they came out with an iodized version.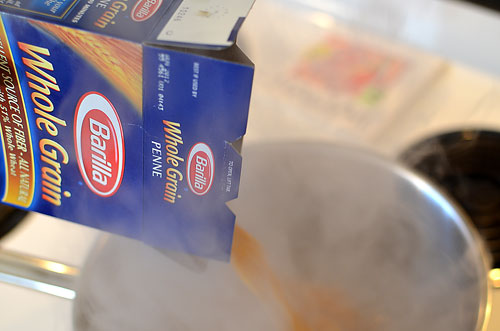 Add in 1 pound of whole grain pasta. Boil for about 10 minutes. – I like my pasta al dente. Drain, rinse, and set aside.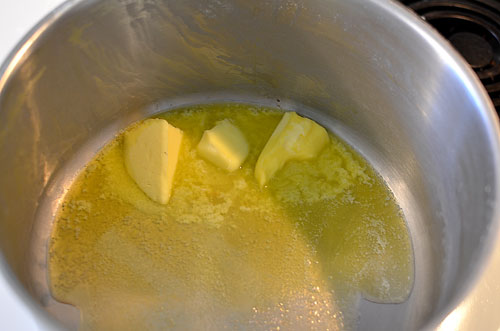 In the same pasta sauce pan, melt your butter over a medium-high heat.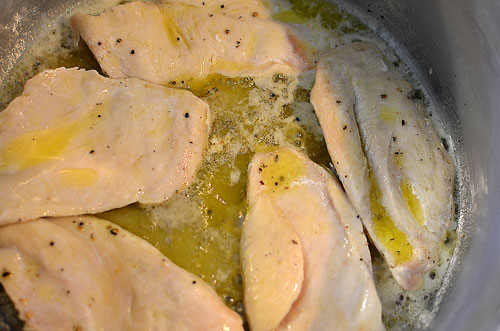 Add your chicken breasts. I use thin-cut breasts. They cook up in half the time. I'm also a worry-wort about, "Is my chicken cooked?". No need to worry with thin-cut.
Add some fresh ground pepper and a dash of sea salt. Brown the breasts on both sides for two minutes.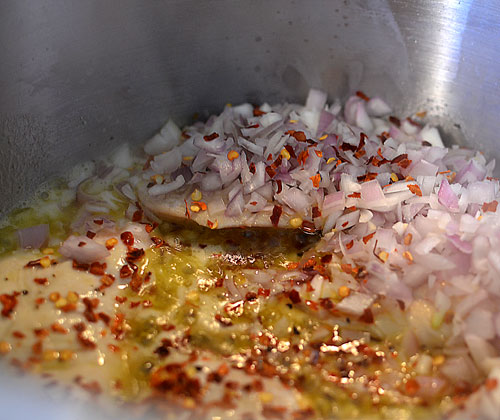 Once the chicken is a little brown on both sides…
Add in your diced shallots, and red pepper flakes. Turn the heat to medium and let it all mingle for five minutes, or until the shallots are transparent, and the chicken is cooked thoroughly.
Remove chicken, cover, and set aside.
Stir in the bacon, tomato sauce and beer. Let it cook for two more minutes.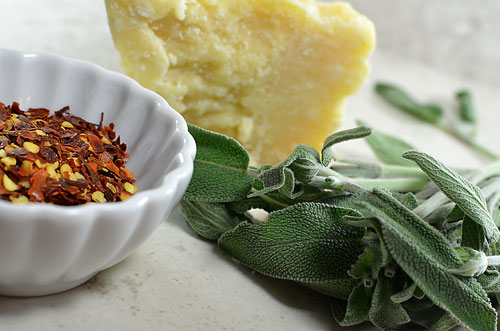 Fresh Parmesan, red pepper flakes and sage. These are the 'other' ingredients that I forgot to add in the picture above. I'm kind of glad I did – it's a nice photo. If I do say so myself.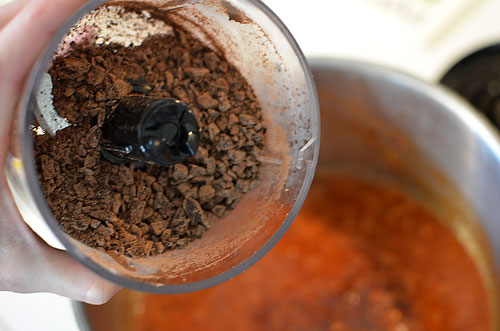 Stir in the cacao and a little grated Parmesan. Let it melt into bliss…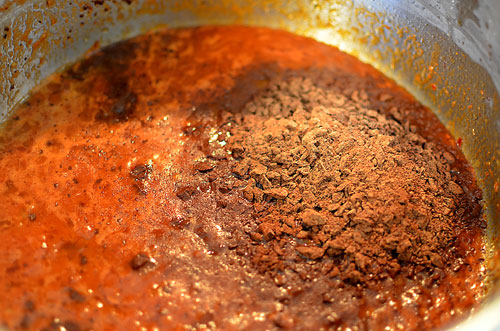 Cook for another 2 to 3 minutes.
Time to plate it…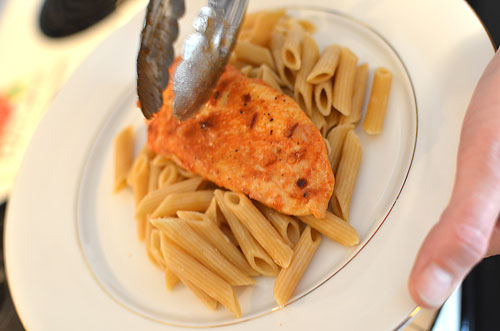 Some people like to mix their pasta in the sauce first. This sauce is heavy, so, I recommend you don't.
Layer a chicken breast over the pasta…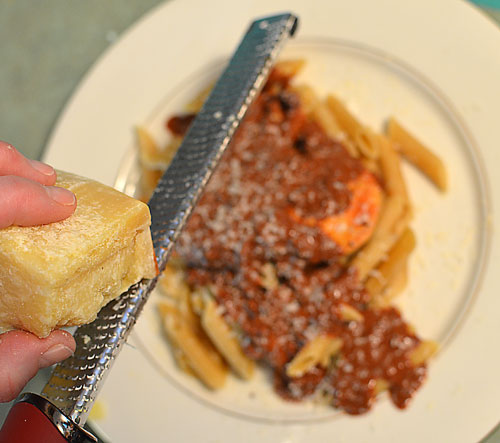 Add a layer of sauce, then fresh grated Parmesan, then top it off with a few sprinkles of diced fresh sage. Delicious!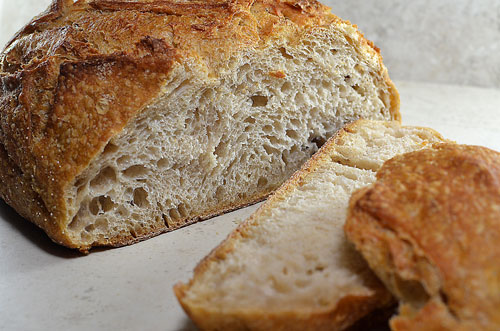 Since the chocolate in this recipe reminded me of a French dish, I used a loaf of Pain de Campagne. All breads are cool in my book, but this was perfect for this dinner.
This recipe is gourmet, and when we think gourmet we think, "A long time to prepare." I have to tell you, this took less than 30 minutes. Magic!
Do you have any cool ideas you want me to cook up? Please share because this Girl Likes to Eat!

Related posts: