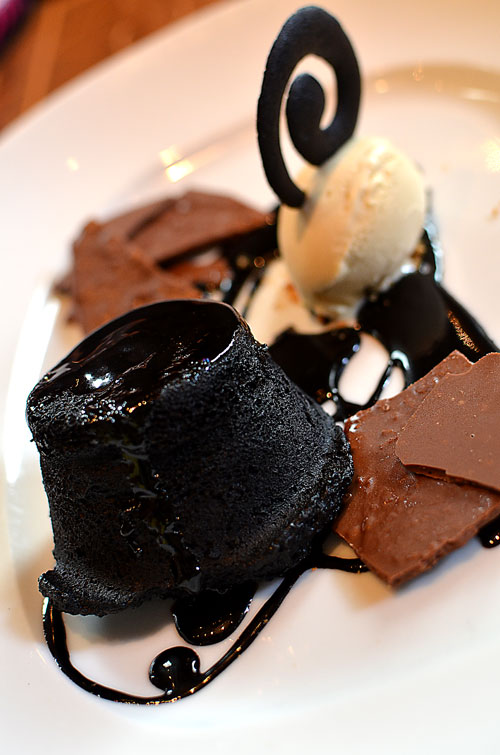 For Father's Day Glen and I took his family to Eleven, located at 1150 Smallman Street Pittsburgh, PA. We've had many opportunities to dine here, but something always got in the way. We were very excited to finally get there.
The restaurant is a 'contemporary kitchen.' We were all smiles when we first walked in. Since we arrived a little early, we checked in and the hostess took us to the bar area for a very small wait.
With my eyes wide open, I'm impressed at first glance and found it to be very dark, relaxing and enjoyable. However, as we wait for our table, sitting in the big comfy chairs, our eyes narrowed to the stains and spots on the furniture. I was a little apprehensive to sit down.
Shall we order?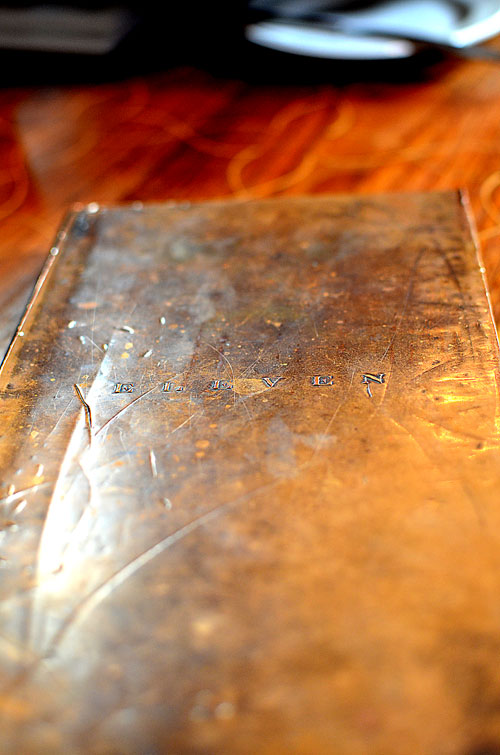 It's the little things that I love to experience. The brunch menu is small. Which I like. I hate needing to make food decisions. It's hard for me <smirk>.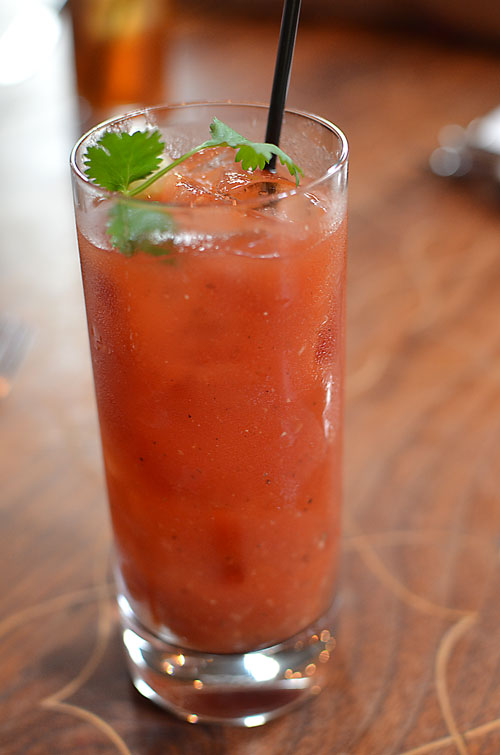 Because I had a wonderful time with Meat & Potatoes Brunch Bloody Mary Bar, I wanted to compare Eleven to one of my favorite restaurants in Pittsburgh. Eleven has different types of Bloody Mary's. I opt for the Bloody Maria. – A jalapeno fused cocktail. A spicy drink, and I really enjoyed it.
Though the drink WOWED me, as you can see from the photo, the presentation did not. I really liked the creativity of Meat & Potatoes presentation. It was interactive and unique. At those prices, give the customer a little fun for their money. Sorry Eleven, M&Ps spoiled me.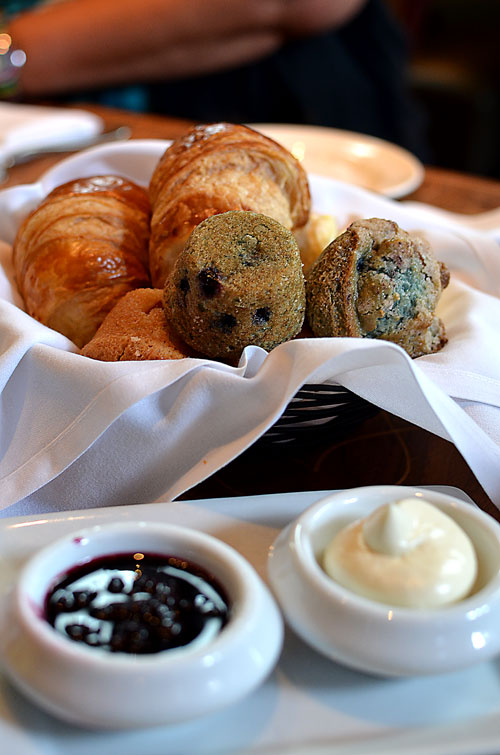 Just looking at that breakfast basket is making my mouth water as I type this. Eleven gives you a basket filled with a moist variety of muffins, The butter was light and whipped, and the jam was a perfect addition. Love this.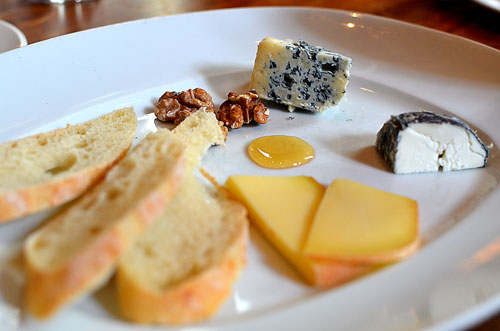 We ordered the cheese platter appetizer. It was good, but not extraordinary.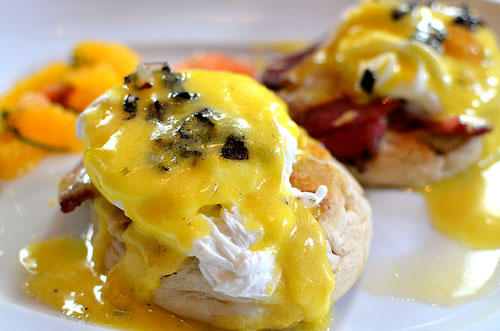 I ordered the Eggs Benedict Pittsburgh style. Served with pastrami and black truffles. A delicious choice, as so it would seem. – Enjoying my meal, and almost done, I had to excuse myself to the bathroom because I needed to spit out a big piece of chewy gristle.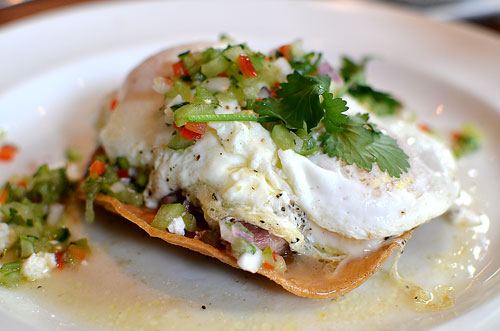 Huevos Rancheros. This is a classic Mexican breakfast dish that mainly consists of fried eggs served upon lightly fried corn tortillas topped with a variety of greens and sauces. Sorry Eleven, it is good, but not satisfying. We were comparing it to Meat & Potatoes brunch version. M&Ps is bigger and better with lots of layers.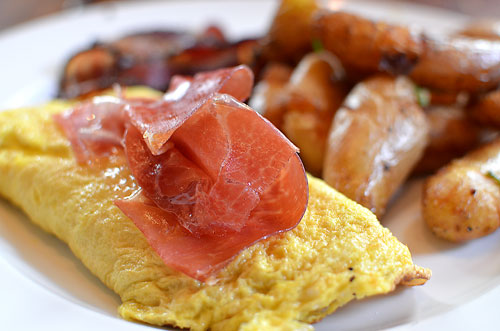 Your average omelet, potatoes and smoked cured bacon just for dad. We found all of it delicious. The potatoes were perfectly cooked. This would be my highest recommendation from the brunch menu.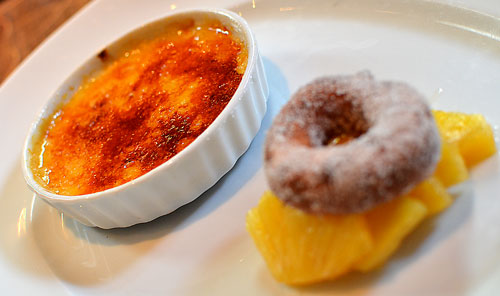 Of course we ordered dessert. Mom and Glen are big dessert eaters. I can handle a bite or two, but I'm a salty kind of girl.
Here we have a Creme Brulee. One of Glen's favorites. They can't make a brulee dish big enough. However, not this time. The dessert was cold. They must prepare it then store it in the refrigerator. We did not like it as much as the other desserts.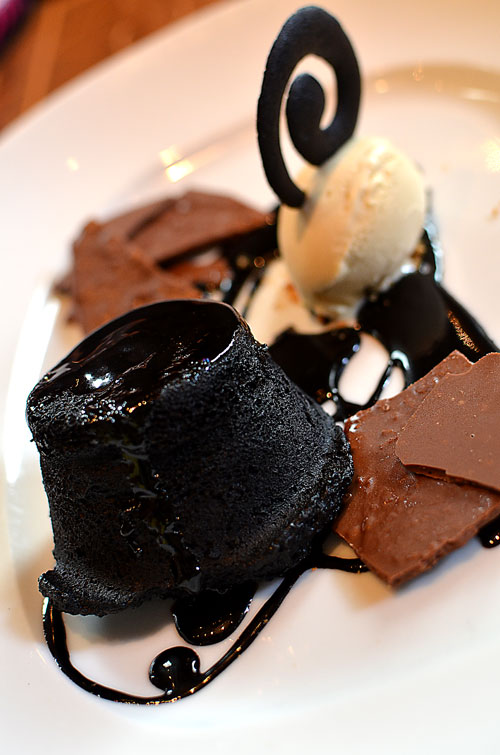 This is the Molten Lava Dark Chocolate Cake. Heaven. So divine and an artistic presentation. Definitely worth the calories.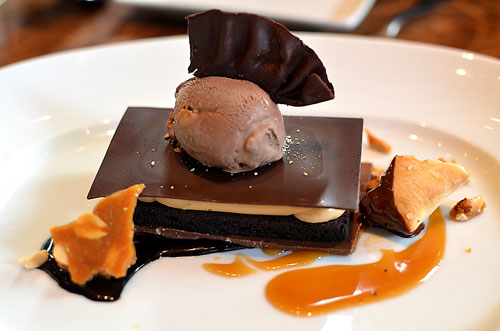 We're told this is their most popular dessert. I'm blanking on the name, but it's something to do with Peanut Butter. I preferred the molten cake, however, Mom and Glen devoured two of these.
Overall, it was finally nice to try it out, and we'll probably go back for Eleven's dinner menu. Not to mention, Eleven has excellent customer service. Our server was new, and you couldn't even tell had he not told us. In the end, we found it to be a little pricy for not being blown-away.
Have you've eaten at Eleven? What are your thoughts? What would you recommend?

Related posts: