Since starting my food blog, I've decided once a month to choose a restaurant on our Bucket List, and invite friends to join in. – The Posh Dinner Club.
Party of six. Nicole, Carey, Hector, Karen, Glen and I visited Savoy located at 2623 Penn Avenue, Pittsburgh, PA in the Strip. As you'll see throughout the photos, Savoy's food has a rich Louisiana-style flare.
First things first…
They have free valet parking. A big plus in Pittsburgh.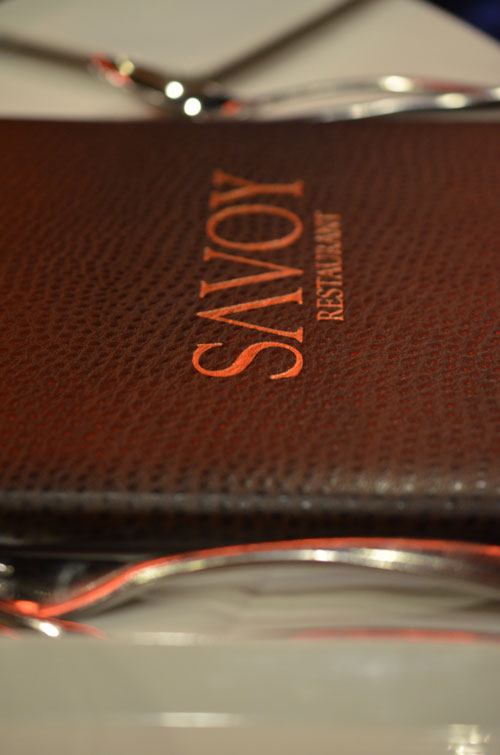 You are greeted at the door by a gentleman who takes you to the hostesses. – Giving you that feeling, "I've arrived."
Feeling like I just arrived, we had a small wait for our table; even with a reservation. However, Savoy has a lovely sitting area to talk with friends before dining.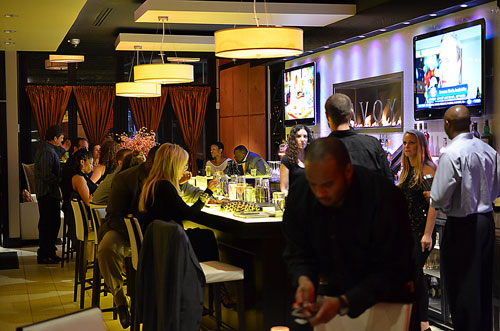 As soon as the door opens, you are transformed into a small contemporary space. – Very pleasing. I really love the glass fireplace above the bar.
The staff are amazing. Excellent customer service. You go to the bathroom, they fold your napkin. Your water is empty, they pour it. – Even though a bottle of water is on your table, if you go to pour it yourself, they will apologize.
We experienced a three hour meal. There's a loll between courses, however, the friendship made it enjoyable.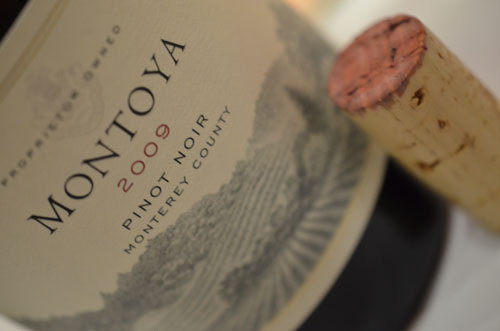 Karen and Carey shared a bottle of wine. Not much of a craft beer selection, so Nicole and I opted for…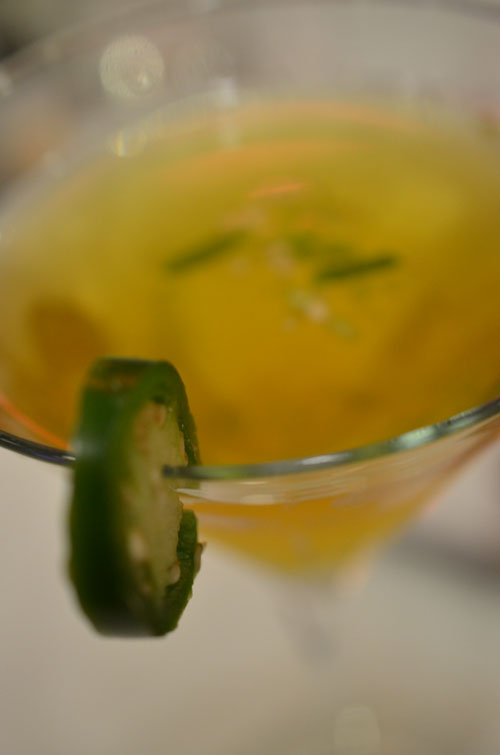 A Jali-Berry. A sweet berry martini fused with Jalapenos. Very good. Very strong. Quote of the night, "When you put it to your mouth, it smells like jalapeno."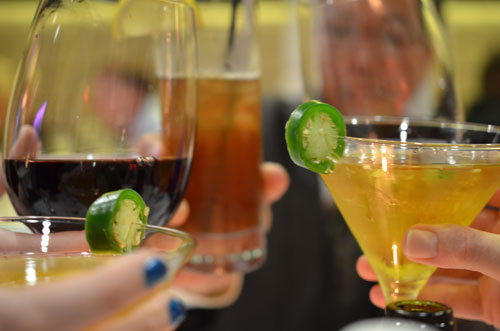 Cheers!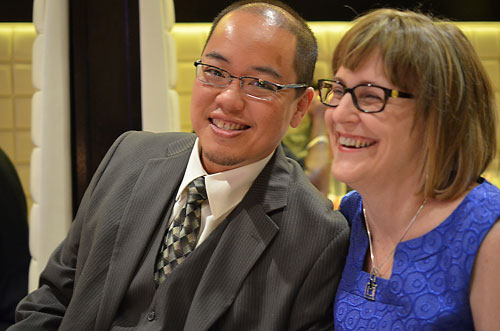 "Food is our common ground, a universal experience." – James Beard
Because it was our first visit to Savoy, we wanted to experience as much food as possible without bloating. No such luck. – Bloated. Portions are big.
Appetizers average $10…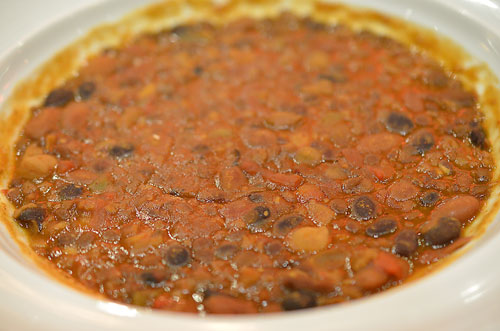 The chili has a hint of curry which I love. However, it was lukewarm, and looked as though it had been sitting for a bit of time. All-in-all, it was still a good chili.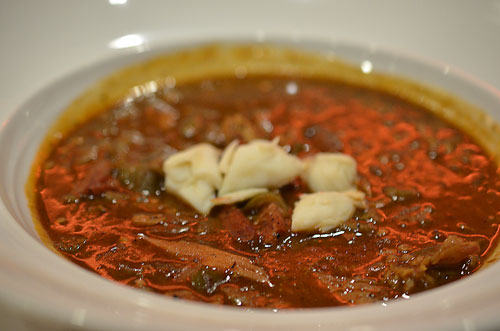 The Crab and Chicken Andouille Gumbo is a smoked-flavor gumbo with pepper, onions, wine, and seasonings. I love a good gumbo, but thought the smokey flavor was over-powered by the numbing taste of salt.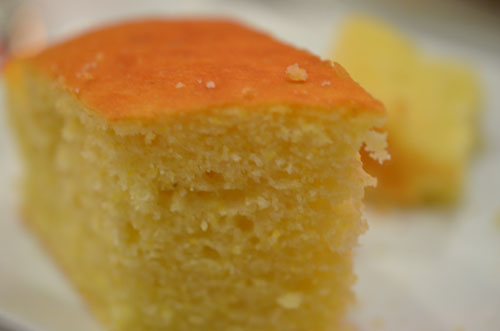 The Cornbread was served with the soups. It was light and fluffy, and just perfect.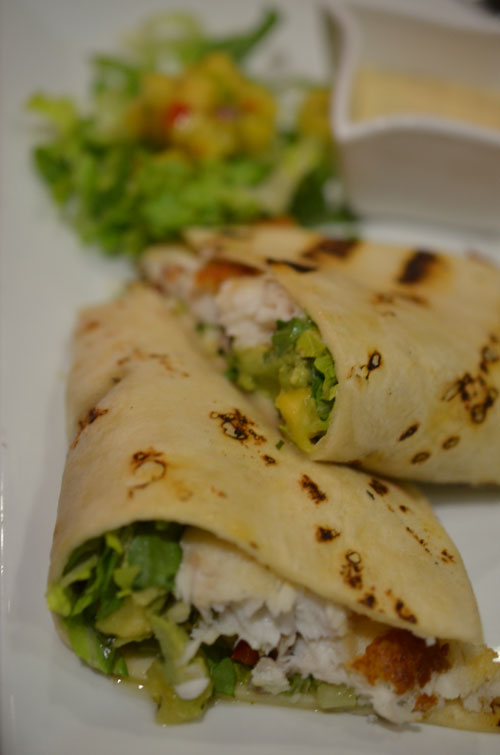 Pan Seared Tilapia Tacos served with avocado, lettuce, tomato, red onion and spicy mustard remoulade. I've only recently tried fish tacos, and find this taco to be an excellent appetizer, or even a meal; if you don't want to share.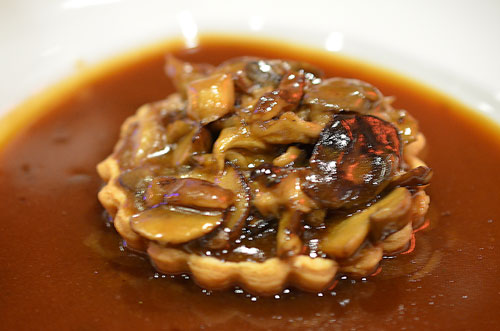 Wild Mushroom Tart is assorted wild mushrooms sautéed in a flaky tart shell with Madeira wine demi sauce. It too, was a bit salty.
Entrees average $30…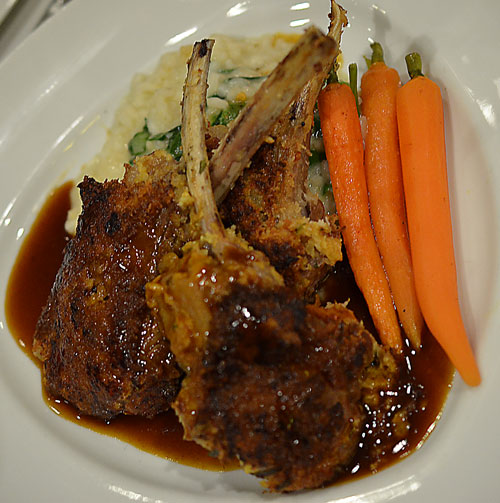 If lamb chops are on the menu, it's a must try. Savoy's Lamb Chops is Elysian Fields Lamb served with a mint demi, accompanied by spinach risotto and baby carrots. The chops melted in your mouth.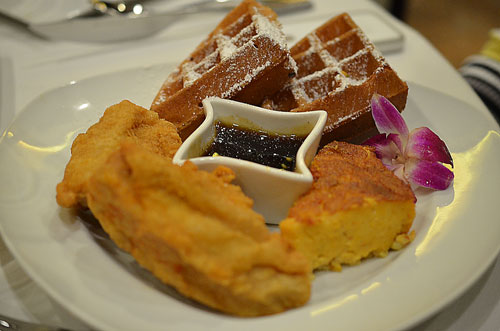 A big trend it seems is Fried Chicken and Waffles. Rumor has it that chicken and waffles first gained popularity in 1930s Harlem, when the after-hours' crowd was looking for something to eat that satisfied both their dinner and breakfast cravings. Whatever the truth, this southern comfort combo is exploding all over the Pittsburgh area, so I had to try it.
It's simply that. Boneless breast, leg or thigh, with corn pudding and Pennsylvania maple syrup. This dish was delicious. I absolutely love the chicken breading. It was perfect. The corn pudding had a slight hint of something artificial to it. Not sure exactly what it was, but definitely not my favorite. A few friends tried it and thought it was okay.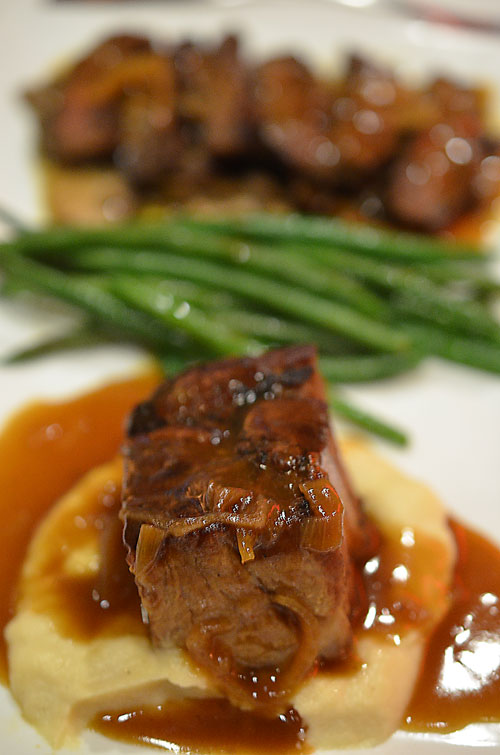 Beef Two Ways is a beef brisket cube and grilled bistro filet steak with compressed mushrooms, haricot verts and cauliflower silk. This dish was acceptable. The brisket cube was a bit fatty making it chewy, but the filet steak was perfect.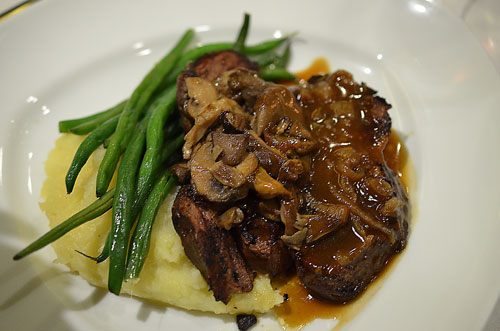 Filet Mignon is a center cut, Yukon whipped potatoes and haricot verts. An excellent choice. It was perfect, and melted in your mouth.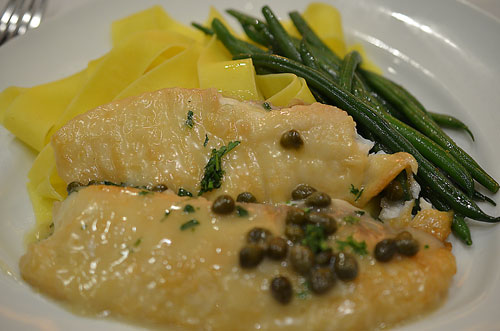 Tilapia Piccata with capers, shallots, fresh lemon, Italian parsley, pappardelle pasta and haricot verts. The dish was nothing spectacular, but all-in-all decent.
Desserts average $12…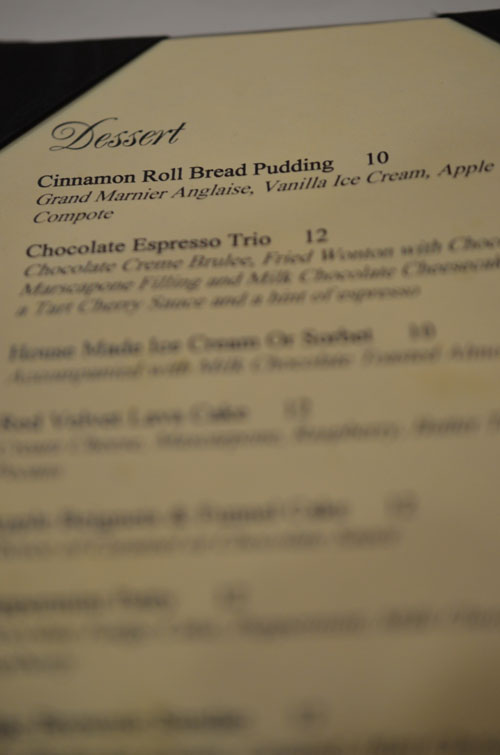 Savoy has a large selection of desserts. A good thing when this is Glen's favorite part of the meal.
We were told that the dessert chef worked at Eleven, so we were excited to get a little taste of everything.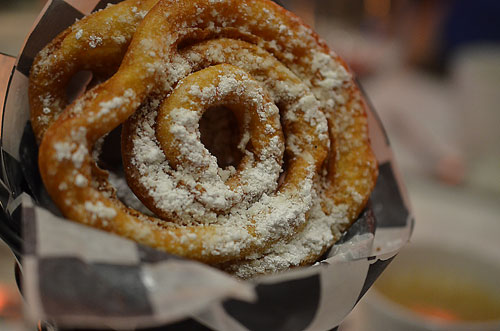 Apple Beignets and Funnel Cake with a choice of caramel or chocolate sauce. We opted for caramel. The beignets are fried fritters, filled with apples, and covered with a coco powdered sugar. Delicious!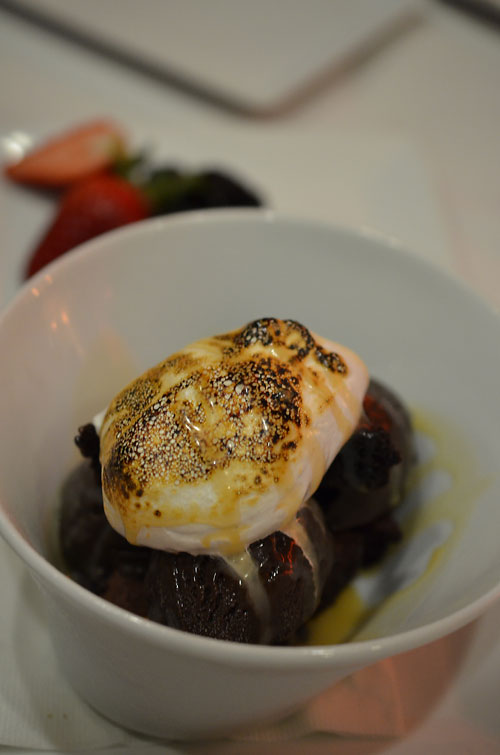 Fudge Brownie Sundae. Normally it's served with butter pecan ice cream, but Nicole substituted it with dark chocolate ice cream. It has caramel, mini chocolate chip cookies, and a S'more-like whipped topping. Oh so yummy.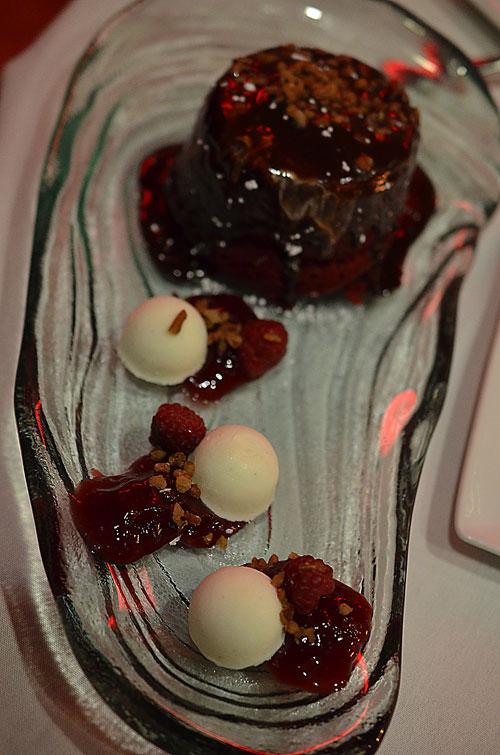 Red Velvet Lava Cake served with mini scoops of ice cream drizzled with chocolate and raspberry sauces. It not only had the best presentation, Carey is still talking about it today.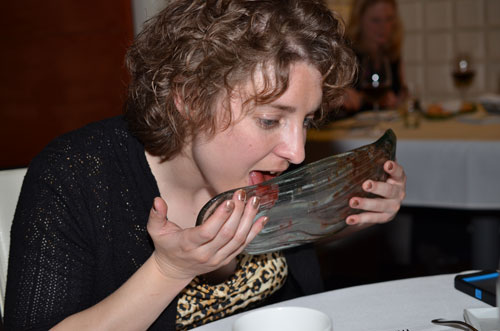 And, as you can see, it's a must have.
A few idiosyncrasies I had were the salty foods, loll in time, and our waiter, at one point, smelled like smoke when I asked him about the desserts. A bit of a turnoff when you're thinking of sweet-nothings.
For the price, we found the food adequate. I was more blown away with the atmosphere, the service, and our good friends. This doesn't mean we won't try again.
On another note: Feeling like a rock star, a lovely woman who was dining next to us inquired about our photo taking. After Glen explained that we were there for a food blog review, she came over to ask me about GLTE. Her and a friend pulled up my blog on their phones. How sweet. She made my night. She too loves food blogs and follows a few. I hope I've gained a new foodie fan. Thank you.

Related posts: