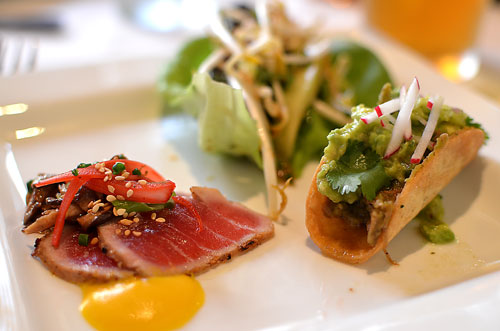 Fellow foodie and adult-beverage-drinking friends, Karla and Jess, invited Glen and I to Soba's Farm Feast Tasting Menu. Soba is located at 5847 Ellsworth Avenue, Pittsburgh, PA, and is a part of Big Burrito Restaurant Group. They own several popular restaurants in the area, including Eleven. Having Soba on our Bucket List, we were excited to try it out.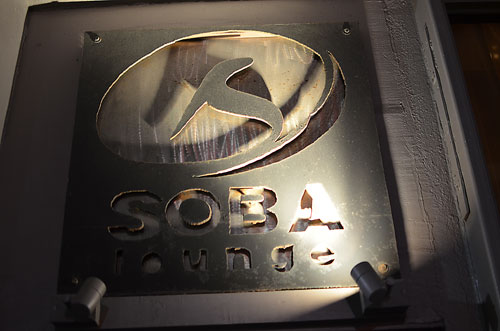 Shall we go in?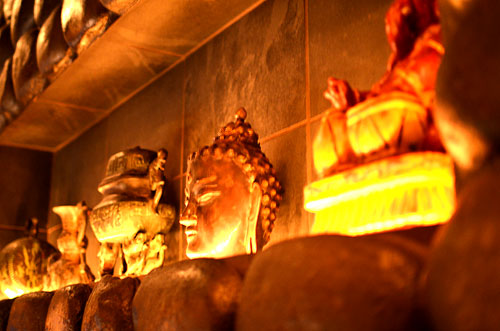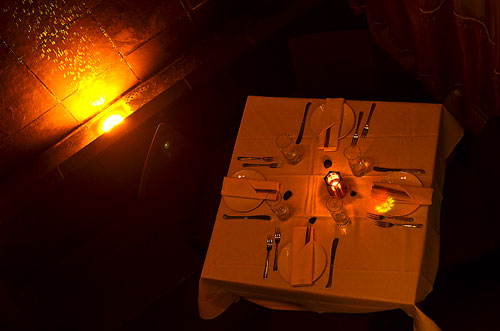 We found Soba to be very unique and relaxing. We absolutely loved the smooth rock water feature expanding two floors and an entire side of one wall. Very peaceful.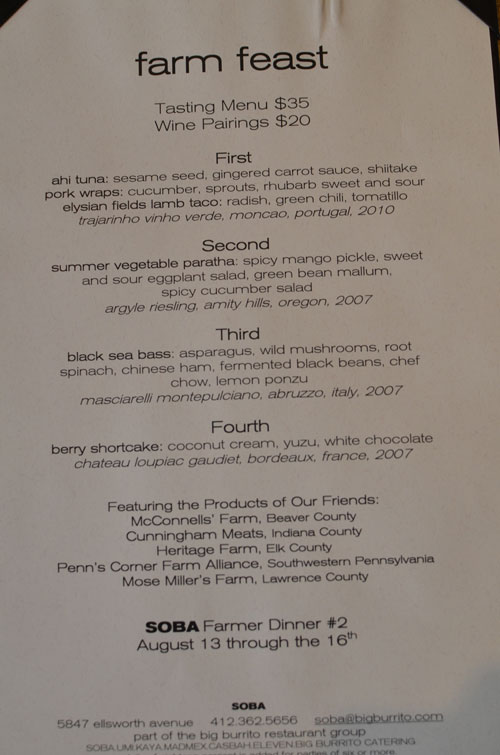 The farm feast has a tasting menu of $35 per person, including four courses. You may also accompany the courses with a wine paring for $20, giving you four different types of wine with each serving. We thought the cost was a great value.
Soba featured products from McConnells' Farm, Cunningham Meats, Heritage Farm, Penn's Corner Farm Alliance, and Mose Miller's Farm in Lawrence County.
The thing I love most about a tasting menu is that you don't have to worry about decisions. The menu is already planned. I'm sure many people would have an issue with this, but as a foodie, there is nothing better than to experience new cuisines. If you are one of those picky people, you can order off Soba's Japanese-fusion style menu.
Shall we eat?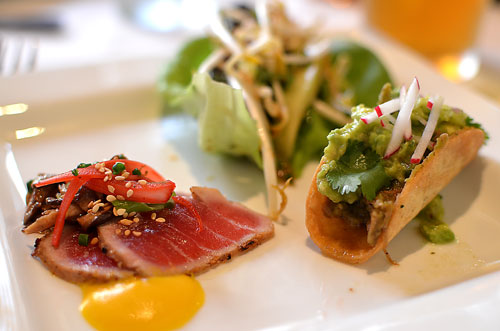 First Course:
Ahi tuna with sesame seed, gingered carrot sauce, and shiitake mushrooms.
Pork wraps with cucumber, sprouts, and rhubarb sweet and sour sauce.
Elysian fields lamb taco with radish, green chili, tomatillo sauce.
Soba paired this first course with a 2010 Trajarinho Vinho Verde.
All the flavors melt in your mouth with subtle hints of all the herbs and spices. A perfect balance and very pleasing to taste.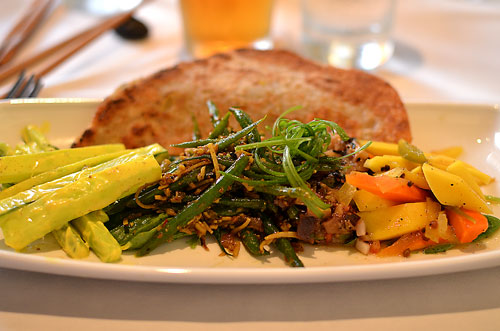 Second Course:
Summer vegetable paratha. It includes spicy mango pickle, sweet and sour eggplant salad, green bean mallum and spicy cucumber salad.
Soba paired this course with a 2007 Argyle Riesling.
Each salad had it's own unique flair. I wanted more.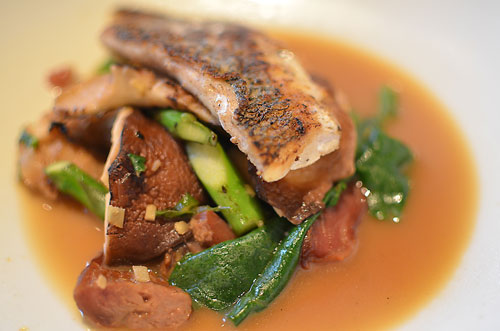 Third Course:
Black sea bass. It includes asparagus, wild mushrooms, root spinach, Chinese ham, fermented black beans in a lemon ponzu sauce.
Soba paired this course with a 2007 Masciarelli Montepulciano.
Glen not being a mushroom fan, I got to benefit from his portion. It was beyond anything I've ever tasted. I ate it slowly to appreciate every bite.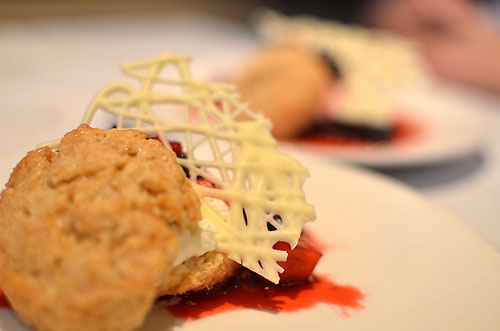 Fourth Course and Glen's favorite:
Berry shortcake with coconut cream, yuzu, and white chocolate.
Soba paired this course with a 2007 Chateau Loupiac Gaudiet.
Not being a white chocolate fan, I really enjoyed this. The pastry was perfect and the dessert as a whole was heavenly.
__________________________
Soba will have a second Farmer Dinner during August 13 through August 16. I highly recommend you try and get there.
Because we were blown-away from the atmosphere, outstanding service, and talented chefs, Soba is making our Pittsburgh Favorite list. Exquisite dining.
Have you experienced Soba? What's your thoughts?

Related posts: