This is a continuation to our Mother's Day dinner. This scrumptious pasta accompanied the beer braised baby back ribs.
The recipe is simple. My version was inspired by the Food Network Kitchens. Only, I added more garlic and lemon. I also bought already-cooked jumbo shrimp, and served it over Linguini. Because I served it over pasta, I increased the recipe.
Let's get started…
Ingredients
31-40 count frozen cooked jumbo shrimp
1 pound of Linguini
1 stick of unsalted butter
2 garlic bulbs
1 1/2 cups of extra dry vermouth
2 lemons
1/4 cup of fresh flat-leaf parsley leaves
Lemon zest from one lemon
Sea salt and group black pepper
Directions
Thaw shrimp overnight in the refrigerator.
Cook pasta according to packaged instructions. I like it al dente; firm but not hard. It depends on how much pasta you are cooking, but for one pound, I cook it for about 10 minutes. After eight minutes, I start checking the pasta by removing a piece and taking a bite. When the pasta is done, drain and rinse with cold water and set aside.
Melt unsalted butter in a pan. Meanwhile, start to chop up your garlic and parsley leaves, and zest your lemon. Once the butter is melted, add garlic and cook for a few minutes, or until it starts to brown.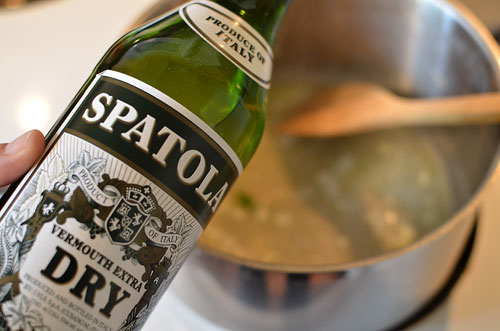 Pour in your vermouth and squeezed lemon juice. Bring to a boil.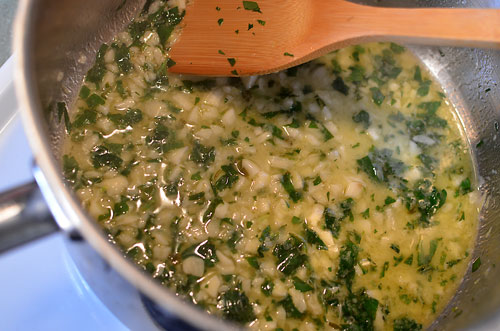 Food Network says to use a wooden spoon to help scrape up the brown bits from the bottom of the pan. I've found this works the best.
Stir in the lemon zest and parsley. The sauce is done.
Toss the pasta, shrimp and sauce all together right before you are ready to serve. If you do it too soon, the pasta will suck up all the juice and become dry.
Grate fresh Parmesan over the pasta and garnish with parsley.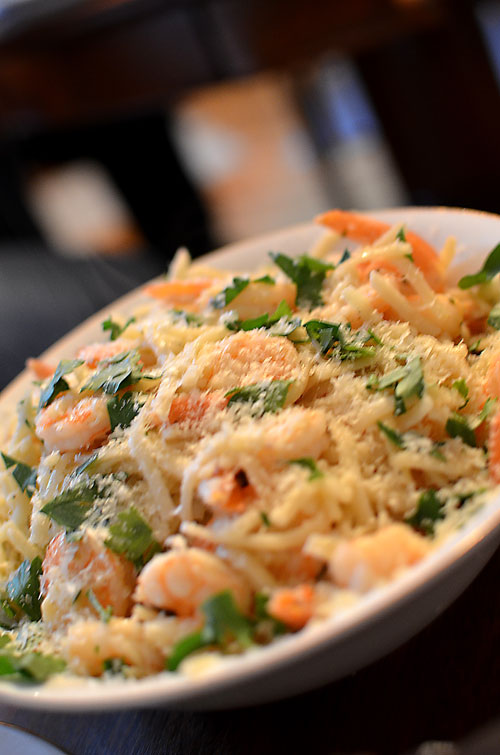 Cooking the pasta takes longer than the sauce, and it's amazing. I really enjoy this dish, especially, with a crusty bread.
Next up, the dessert. Stay hungry.