Well folks, this soup didn't come easy. I ended up slicing two fingers and burning my arm. I should have gone to the hospital for stitches, but my inner Xena toughed it out. Warrior scars ROCK.
This soup comes in many different versions, but I simply follow the basics to making my stuffed peppers, only I use tomato sauce in this recipe. Not to mention, a good ale.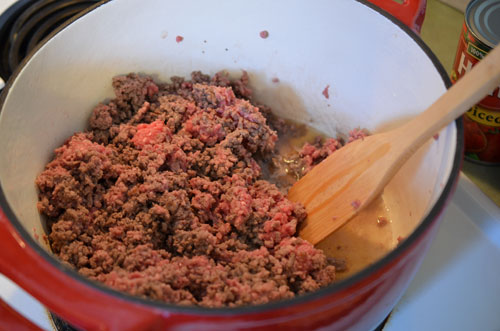 First, you brown the ground beef in a five quart pot. This recipe calls for about 1.5 pounds of meat. Use 98% less fat. This way, you do not have to drain it. I simply keep layering in the next ingredient.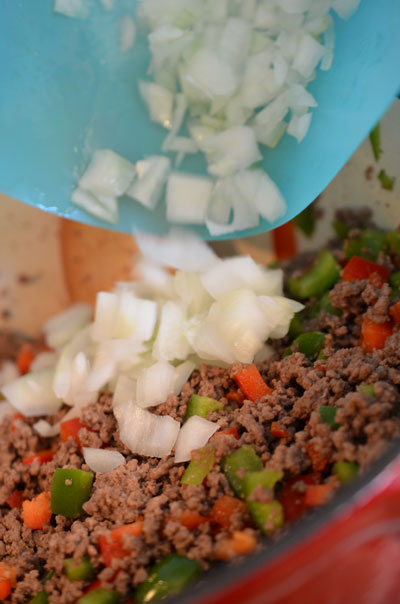 Dice up the veges.
I use one large green pepper, one large red pepper, one medium sized vidalia onion, and one whole garlic bulb. Add all that to the meat mixture with a 1/2 a bottle of Rouge Dead Guy Ale. Let it simmer for 5-10 minutes to marry the flavors.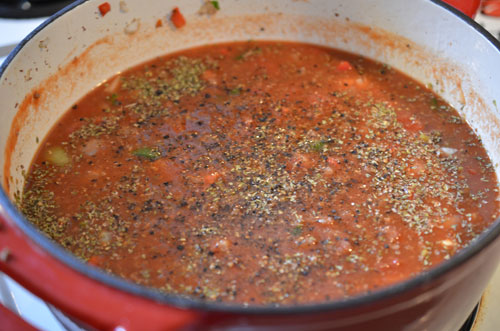 If you've read my post, No tomato sauce on these Stuffed Peppers, then you know I'm not a big fan of tomato sauce. When a recipe absolutely calls for it, I use Hunts Fire-Roasted, low-sodium. Add two 14 oz. cans of diced tomatoes, two 14 oz. cans of tomato sauce, two cups of reduced sodium, fat-free chicken broth, and the other half of the Dead Guy. I'm talking beer here.
Stir it up and add some spice. Add fresh ground pepper, ground sea salt, and lots of dried oregano (about 2-3 tablespoons). Add as much as you like. I love oregano, so I can get a little crazy with it.
I let the spices sit on the top and work their way into the mix of things. Cover and simmer for about an hour. Stir in a 1/2 cup of instant rice, remove from heat, keep the pot covered, and let it stand for 5-10 minutes.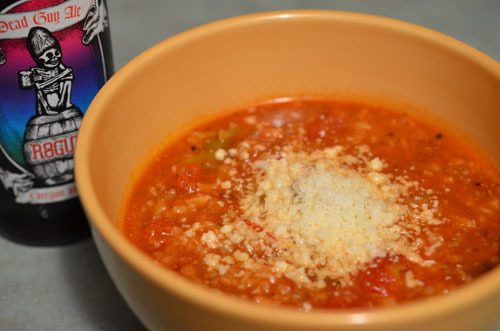 Dress it up with some Romano cheese on top, pour yourself a cold Dead Guy, and enjoy. This is a great soup to have with Mancini's bread.
Thanks for reading. Please share your ideas because this girl likes to eat.