Sunday night, we met up with our friends Christy and Mike for dinner at Spadafora's. They recommend that us foodies try it. Spadafora's is located at 3932 William Flynn Highway, Allison Park, PA  15101. Just like Sieb's Pub, this restaurant is close by and we never discovered it. I'm going to need to pay attention more when I'm driving.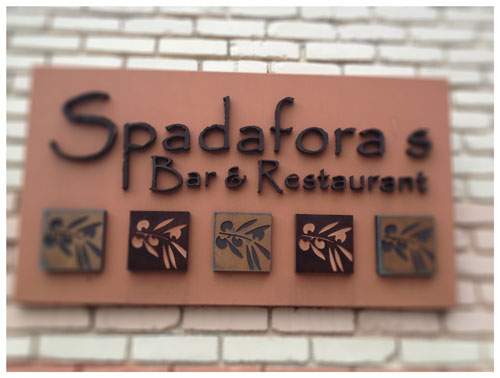 Beer selections were slim picking, but the wine list has a lot to offer. I opted for a good vintage of Riesling. The place is pretty small, and the indoor decor does not match the delicious dishes. The atmosphere is very casual and simple but the dishes have a lot of complex layers.
For starters I had their shrimp bisque. Sorry, but no photo. I can say it was moan-worthy with big chunks of shrimp.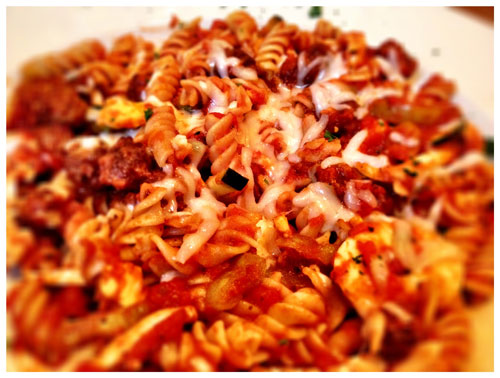 Mike and I had one of the specials. Tiella Diavolo. – A spicy traditional Sicilian pasta dish: rotini with marinara sauce, miniature meatballs, zucchini, eggs, provolone and mozzarella with hot banana peppers. The portion was big, and I couldn't finish it. I love the different layers of textures in this meal. A+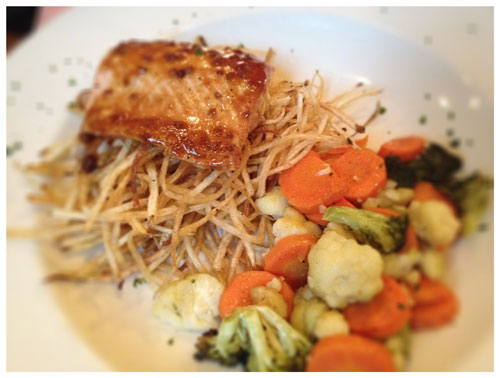 Another special, Christy had the Baked Wild Salmon with Korean BBQ Sauce. – Served on a bed of fried julienne potatoes and roasted broccoli and carrots. I love Salmon, but I'm not a fan of BBQ sauce. Imagine that! I didn't taste it, but could tell it was yummy from all the praise from everyone else.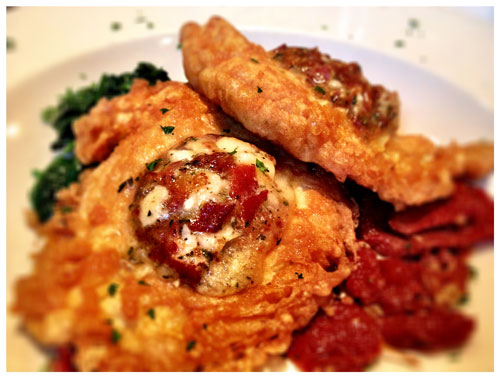 The Boy also ordered from their specials. Bacon and Brie Chicken in White Wine Garlic Butter Sauce. – Romano batter chicken covered in a white wine garlic butter sauce. Topped with melted Brie cheese and bacon. Served with sautéed spinach and roasted red tomatoes. This was amazing. I would say the best Romano chicken I've had in a long time. I wanted to order another one to go. A++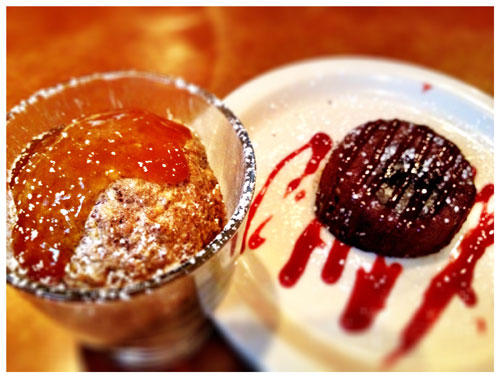 For the sweets we shared Praline ice cream rolled in crushed pecans and smothered in caramel sauce,  and a Molten Chocolate Lava Cake. Its perfect liquid center literally melts in your mouth. Did you know that the lava cake was the result of a major culinary disaster? A cook took them out of the oven to soon, and the centers where still liquefied. Since there was no time to cook them further, the Chef simply introduced the dessert as chocolate "lava" cake! (from About.com).
Reservations are not needed for this Italian bistro.The service was good, but a little slow at filling the water glasses. Being big water drinkers, I'll ask for a pitcher of water the next time we go. I'd also recommend they carry a few Italian beers for us beer drinkers.
Spadafora's Marinara Sauce was voted "Best in the Burg" 2010 and in 2011 Pittsburgh Magazine's "Best Kept Secret" and 2011 "Best Non-Chain Italian Restaurant." I would have to agree. The Boy and I are not fans of chain restaurants, and this is a small pleasure close by. Not to mention, it's very hard to find really good Italian food. Spadafora's is at the top of my list.