Glazed Donut Breakfast Sandwich at Dunkin Donuts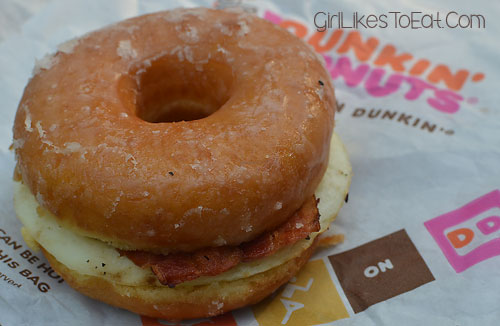 Girl Likes to Eat was invited to tryout Dunkin Donuts new breakfast sandwich. I wasn't interested in trying it, but when asked, I said, "Food? I'm there!" I'm also a big fan of their coffee, and of course, the donuts. I'm definitely a DD girl. I'll buy a dozen of their plain donuts, drizzle them with maple syrup, and sprinkle lots of chopped bacon on top. It's the perfect mix of salt and sweet. I just wasn't sure about adding an egg to the mix.
DD says,
We've gone and changed breakfast forever. Again. Bite into this smorgasbord of bacon slices and pepper fried egg, sandwiched by a Glazed Donut.
Smorgasbord means hearty, right? This sandwich is airy and light.  Nothing wrong with that, but it is deceiving. There are two thin slices of bacon and the egg isn't fried, it's microwaved. Again, a bit deceiving. You can choose your protein, and maybe that would be a heartier choice, say ham.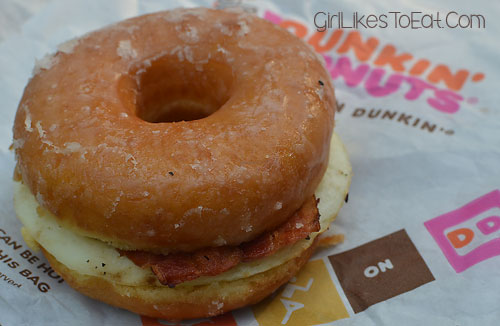 A good breakfast sandwich, to me, has cheese. This does not. I'm not sure why? Perhaps it didn't work well with the donut, but they make cheese filled donuts, right? Am I being gross by wanting cheese on this sandwich? Having no cheese, the donut sandwich only has 360 calories compared to their bagel sandwich at 460. The glazed donut sandwich is obviously the smarter choice.
I took the first bite. At first, it was sticky and weird. Tip: If you eat one, use the wrapper to hold it. I took the second bite. Not too bad, I thought. You would hope for that perfect balance of salt and sweet, but the glazed donut overruled the egg and bacon. I still like the sandwich, but would suggest more bacon, and why not cheese? I'm not letting the cheese thing go.
Overall, it is a decent sandwich. It's even better with a DD coffee, which I love. Will I try it again? Probably, but I'm asking for double bacon, and cheese!
Have you tried it? What do you think?

Related posts: