Happy April Fools! Who's going to try one of my cupcakes?
We are meeting friends for dinner tonight. Since it is April Fools, I wanted to bake them some yummy cupcakes, but make two of those, not so yummy. My friend Paula recommended that I use chili powder. I have a great recipe for dark chocolate and chili pepper sauce for pasta, so I didn't think that chili powder would do the trick.
I was already planning on making dark chocolate something, since our friends both love it. And, since Paula inspired me to use spice as my trick, I found a recipe.
First, I need to tell you that I'm not much of a baker. It may taste yummy, but my artistic ability to make baked goods, look like works of art, are not so good. My decorating skills look more like a Jackson Pollock painting. So, even though I followed this recipe exactly from The Cake Mistress, it doesn't look like hers. Sigh.
I will say, especially since I'm posting this, it tastes scrumptious. However, I think I will try a different version next time. I'll explain what I'll do different throughout the post.
Let's get started…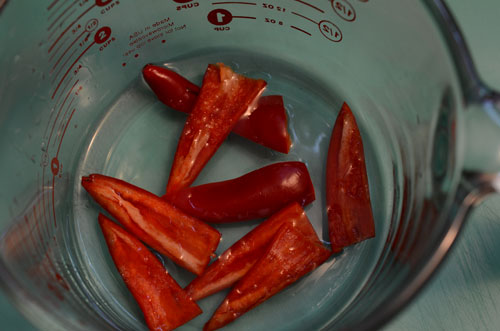 I couldn't find baby chillies, so I used two small chili peppers. I like it spicy. The Cake Mistress calls for two baby chillies sliced and seeds removed, or use dried chili flakes. I opted for the fresh chillies by adding to 1/4 cup of hot water for about 10 minutes, but since I take photos of my food and preparation, my chillies were soaking for about an hour. This takes time. but don't worry, you only get a hint of spice in the finished cupcake. Next time, I'm going to skip this step and add crushed chili flakes to the batter. I also wouldn't mind trying Jalapeno jelly.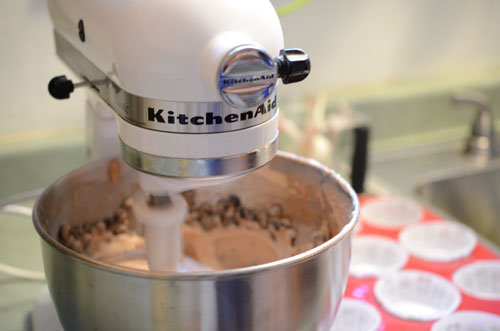 I love my Kitchen Aid. It's the best for whipping up batter. I tossed in 3 eggs, 1 cup of butter, and 1 cup of sugar, then mix until light and fluffy. The Cake Mistress says to use caster sugar. Of course, I couldn't find it. I just used regular sugar.
Add in 1/2 cup of milk, 1 1/2 cups of flour, and 1 teaspoon of vanilla.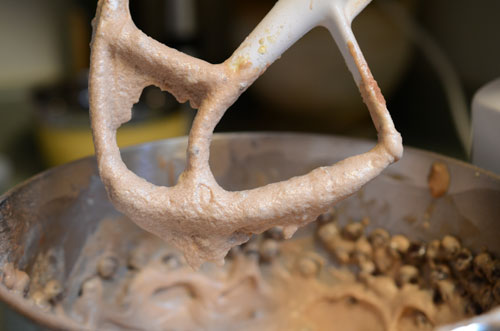 Add half a bag of Nestle special dark chocolate chips, 1 tablespoon of cocoa powder, and 1/2 of the chilli-infused water and combine. This is where I would add the Jalapeno jelly for next time.
Beat with an electric mixer for 2 minutes, until light and creamy.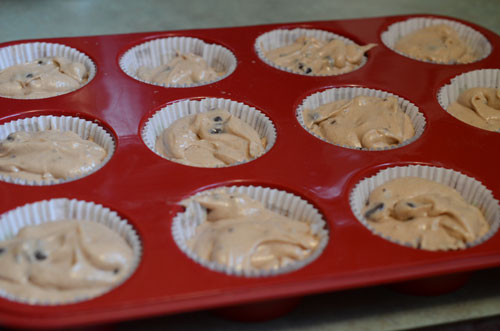 Put mixture in your cupcake pans with liners. If you are planning an April Fools prank, make sure you remember which ones are meant for the joke. I added tons of salt to two – Shhh! <insert evil laugh here>
Bake for 20 minutes at 350, or until firm to the touch. Allow to cool for a few minutes and then transfer to the counter. Finish cooling fully before icing.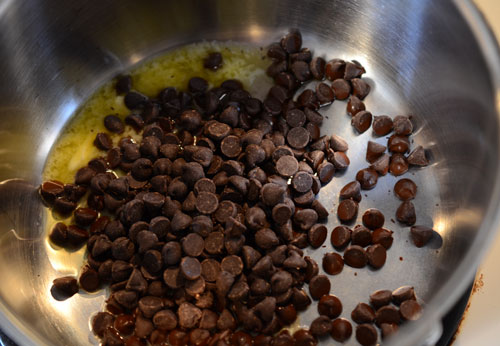 In the meantime, start your topping. Combine the other half of the dark chocolate and 1 1/2 tablespoons of butter in a saucepan over a medium heat. As the mixture begins to melt, reduce heat to low, stirring constantly, until melted.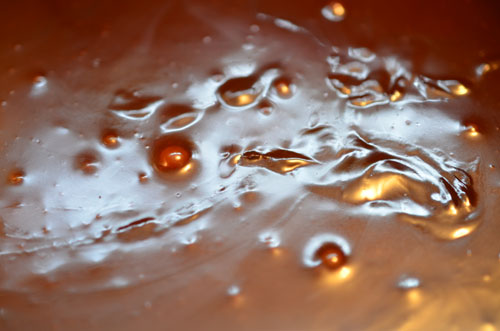 Remove from heat, and whip in 1/3 cup of heavy cream, and remaining chilli water. I guess this is where I went wrong. The Cake Mistress said to let it rest for 10 minutes until the mixture was velvety.  It took a good 30 minutes to thicken up, and it still wasn't thick enough to make her cute swirly topping. Nonetheless, I added the dark chocolate sauce to the cooled cupcakes.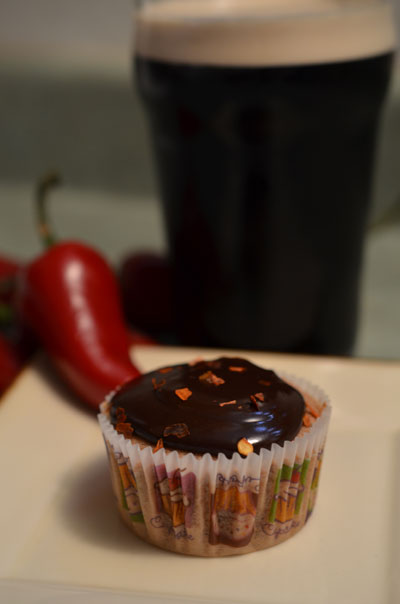 Since I couldn't find baby chillies, I added crushed chili flakes for garnish.
I put the cupcakes in the refrigerator and the icing harden to perfection. My cupcakes have a crunchy layer.
Secret ingredient: Pair this cupcake with a Guinness. Oh so yummy!
Please share your ideas because this girl likes to eat.



Related posts: