Someone asked me recently, "Do you have a case of beer for each beer you use in your recipes?" That's expensive! I do not buy by the case. Only for parties. The state of Pennsylvania has strict LCB laws. Boo hiss. There are a few (not many) venues that can sell by the bottle in the Pittsburgh area. It too can be expensive, but I like a variety. Different beers for different days; I'm moody. I really wish the liquor stores would start selling craft beer like they do wine. When I travel to other states with stores dedicated to rows and rows of craft beer, I think I've died and gone to beer-haven.
After planning out my recipes, I head over to my favorite Pittsburgh beer emporium, 1 For The Road, for a little grocery shopping. I pick and choose a few flavors I haven't tried along with my must haves, and a few for my drinking pleasure. I have a beer cellar where I store most of my beer. It's nothing fancy. More like a large place on the floor in the basement that I call my beer cellar. I hope to one day have a Kegerator and a chair.
Enough with my babble. Grab yourself a Stella Artois and let's get cooking.
This soup is yum-yum good. I love it. It's thick and creamy, but with a light taste. I think Stella is the perfect ale for this recipe. Of course, you can use any light beer, but make sure it's a white ale. Anything darker will change the flavor.
It's easy and can be made in less than an hour. You'll see in the instructions, I'm using my immersion blender. It rocks! If you do not have one, you need to get one. It's my favorite cool tool. It makes it quick, easy, and less messy. That leaves more time for beer.
You'll Need
3 tablespoons of butter
3 cloves of garlic, peeled
2 large shallots, peeled
4 leeks, only whites roughly chopped
6 potatoes, peeled and roughly chopped
3 cups of chicken broth ( or vegetable broth)
1 bottle of white ale (I use Stella Artois)
1 cup of heavy cream
1/2 tablespoon of nutmeg
Sea salt and fresh ground pepper, to taste
Olive oil and chives, for garnish
Let's get started…
Roughly chop up three potatoes and all four leeks. No need to do any fine chopping. The immersion blender will take care of it. We will get to the other three potatoes later.
In a large dutch oven (or soup pot) toss in all the ingredients except for three potatoes.
Over a high heat, bring to a boil. While you wait for it to boil, chop up the other three potatoes into quarter size bites, and set aside.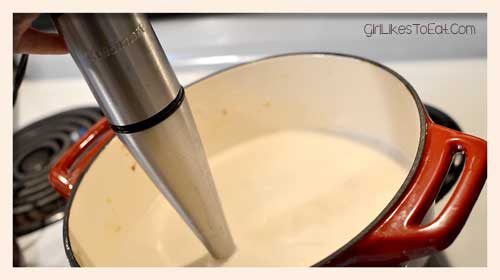 Once the soup reaches its boiling point, reduce heat to medium. Using an immersion blender, slowly blend the ingredients until smooth. Cook for an additional 20 minutes. Add in the chopped potatoes to chunk it up. Cook until potatoes are tender (about 8-10 minutes). And, salt and pepper to taste.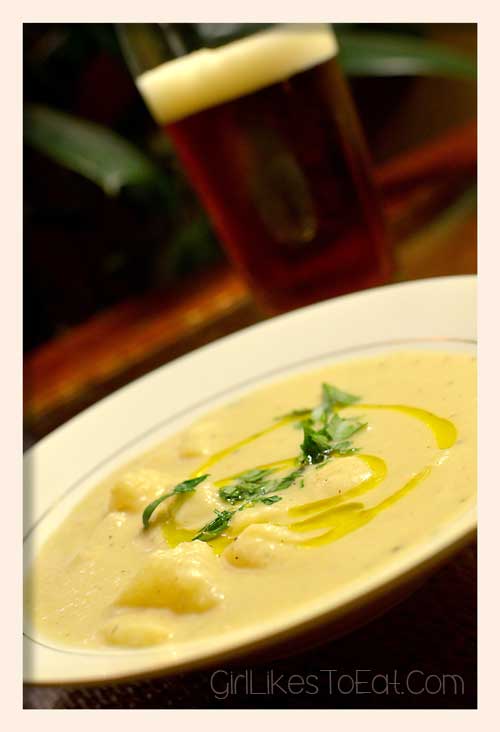 Drunken good! Garnish with olive oil and chopped chives, and grab another S T E L L A.