Just because Cinco de Mayo is over, doesn't mean you can't enjoy some Mexican favorites. Besides, margaritas are best all year long.
On May 5, for my niece's birthday, we took a cooking class at Habitat restaurant located at 510 Market Street, Pittsburgh, PA in the Fairmont Hotel. The hotel is only two years old, and absolutely lovely. I've never stayed here, but from the great attention we received for just an afternoon, I can tell it's a fine venue to lay your head.
At the Habitat, the food is internationally inspired, but uses "locally sourced, organic and sustainable items wherever possible." The atmosphere is contemporary and very relaxing.
Each month the Habitat hosts a different cooking class where you get an apron, a hat, recipes, and enjoy the meal you helped prepare. The class is a low-hands on approach. – They didn't let us use knives. Thank goodness! Chef Luis Jimenez knife cut everything as though it were butter. Very. Sharp.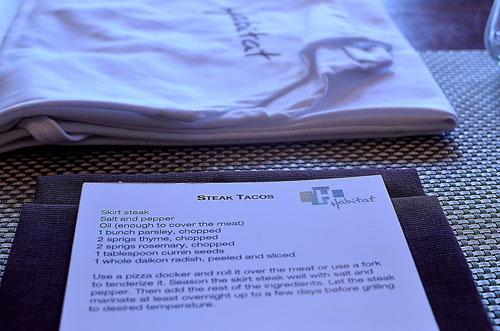 This is by far the best experience at a restaurant I ever had. I highly recommend other restaurants to do this. Not only do you get to enjoy a meal, you get to hangout with the chefs and help prepare it. How cool is that? As you will see in my photos, it is well worth $65 per person. We spend that much eating out at The Cheese Cake Factory with no fun times in the kitchen. Just so cool.
We were greeted by Sous Chef, Paula Smagacz, our host for the afternoon. She was super sweet, very talented and funny. Thanks Paula for an enjoyable day.
First things first…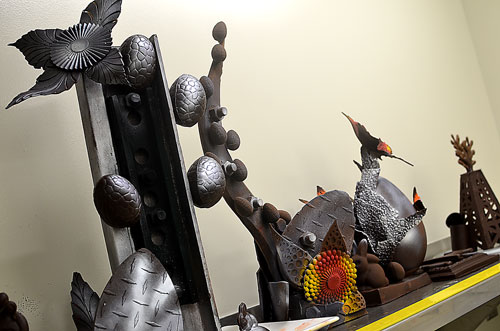 Chef Paula, took us on a tour of their two-story kitchen filled with different types of chefs. The kitchen was immaculate. When eating out, do you ever wonder what the kitchen looks like? Pretty neat to see it, and know it's spotless.
Here you see a statue made of chocolate. I'm not sure I could eat it. Hell! Who am I kidding. It took much discipline not to reach out and snap a piece off…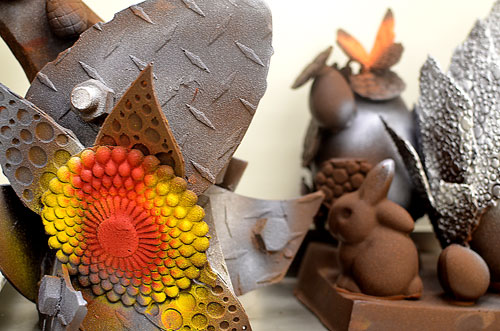 Especially, the bunny ears. Look how cute!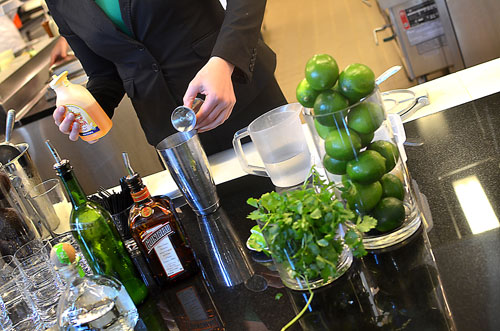 After the kitchen tour, they made us Skinny Margaritas. Can I get a Hell Yeah?
Here is their recipe.
2 oz. Patron, or any tequila
1 oz. Cointreau
2 oz. fresh squeezed lime juice
1 oz. agave nectar
Put rim of glass in lime juice, then roll in coarse salt. Combine all ingredients in a cocktail shaker. Add ice and shake. Pour into glass and enjoy.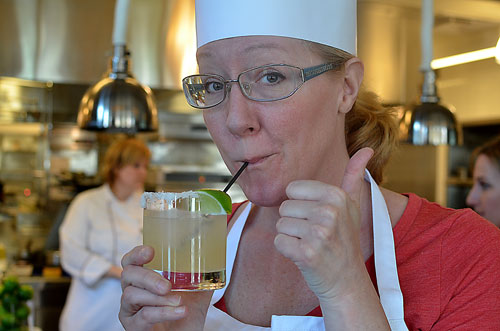 This was spectacular. I think I asked, "May I have another?" about three times.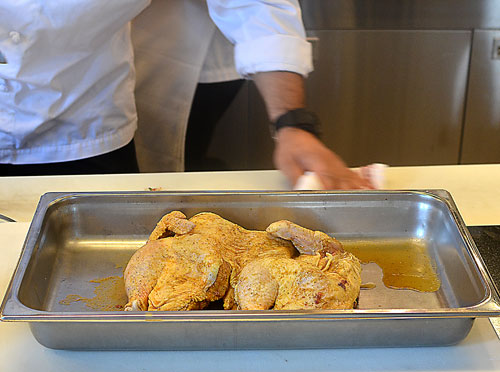 Let's get cooking…
Season whole chicken breasts with salt and black pepper. Coat a saute pan with oil and sear chicken on both sides over medium high heat. Chef Luis said it's better if you use the grill.
Toss in one tablespoon of each of the dried spices of sweet paprika, smoked paprika, cumin seeds, and dried oregano. Cook in pan for a few seconds then add chicken stock enough to cover the meat. Lower the heat to medium low. Simmer mixture for about 20 minutes until chicken is thoroughly cooked.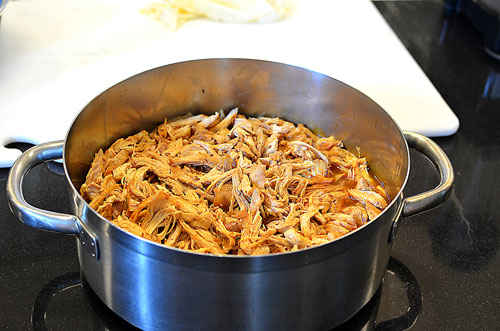 Remove chicken from broth and pull apart. If you are going to store it in the refrigerator, pure some broth over it to keep it moist.
Ingredients:
Chicken breasts
Salt and Pepper
Oil
1 tablespoon sweet paprika
1 tablespoon smoked paprika
1 tablespoon cumin seeds
1 tablespoon dried oregano
Chicken stock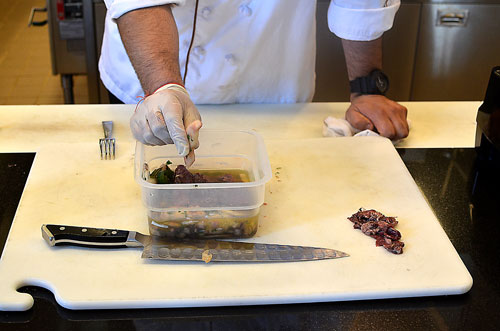 I did not know this, but using radishes in your steak marinade helps tenderize the meat. Chef Luis used Skirt Steak. He also said you could use Flank Steak. I always have a problem with it even using processed tenderizers. He simply poked the steak with his fork on both sides and used a radish in the marinade. He also said the best method is use a pizza docker and roll it over the meat to help tender it.
Marinade recipe for the steak tacos:
Skirt Steak
Salt and pepper
Oil (enough to cover the meat)
1 bunch parsley, chopped
2 sprigs thyme, chopped
2 springs rosemary, chopped
1 tablespoon cumin seeds
1 whole daikon radish, peeled and sliced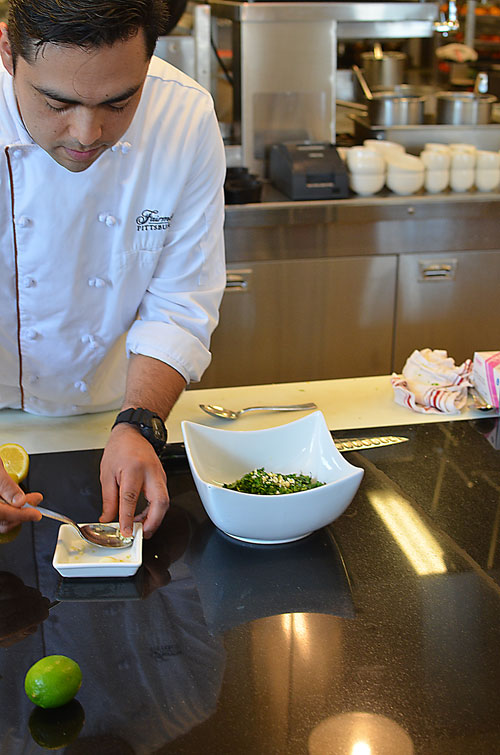 Next up is Chimmichurri. Yum. Yum. I could make this and use it on my sandwiches. Just divine.
The recipe:
2 bunches parsley, rough chopped
1 bunch cilantro, rough chopped
1 garlic clove
Lemon, juiced to taste
Salt and pepper to taste
Olive oil
In a blender or food processor, pulse the fresh herbs and garlic. Add lemon juice, salt and pepper and blend. Slowly drizzle in enough olive oil to create a sauce. Taste and season as needed.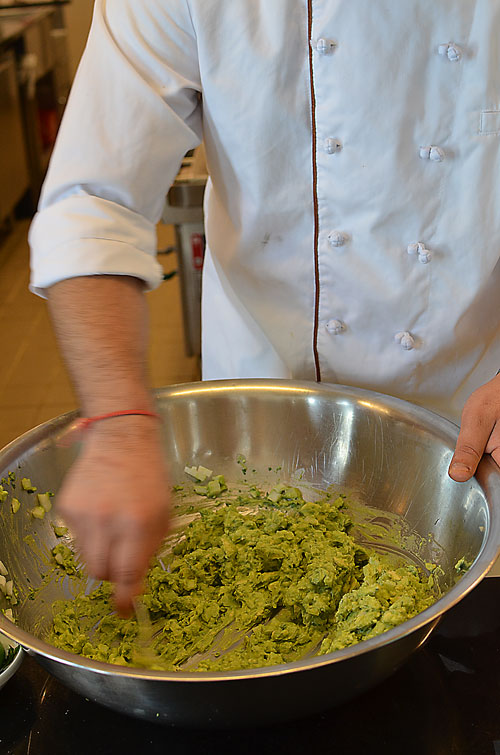 Guacamole. The recipe is simple. I didn't get a recipe card for this one. However, it was pretty close to mine, but he added in red onion and green onions. For guac, you don't need a recipe. Put whatever you want in it. It's easy.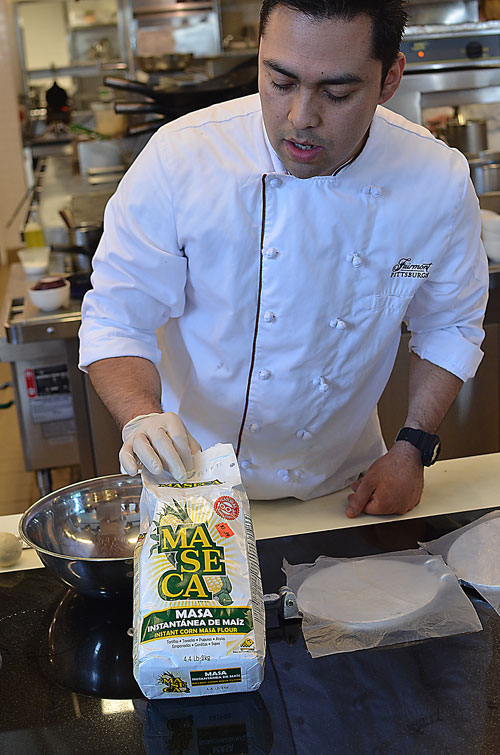 Guess what I'm getting at the Mexican grocer this weekend? For the tortillas, simply follow the recipe on the back of the bag. Smoosh it together in a bowl with your hands. Fun! Create golf ball sized balls…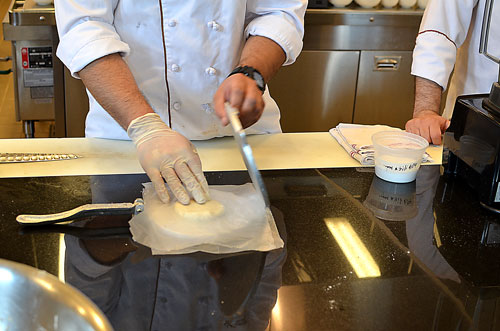 And, smash it in this handy tortilla maker. You can use a rolling pin, but that's no fun. I'm picking up this handy tool. It's under $10. Why not?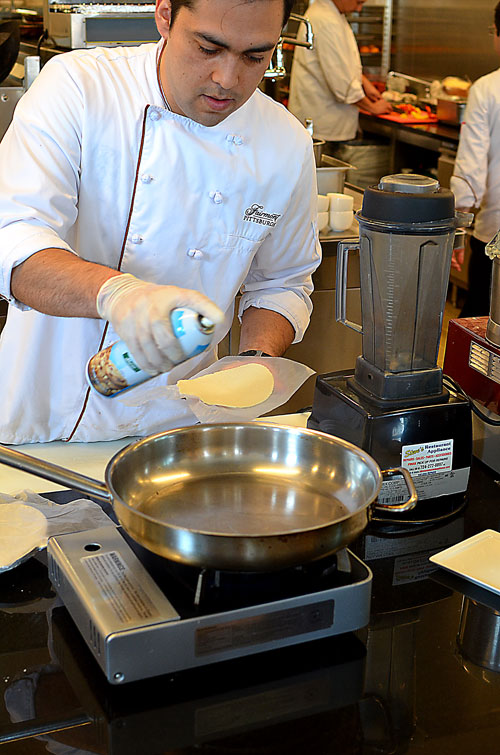 Spray your pan over medium heat and cook on both sides until slightly golden.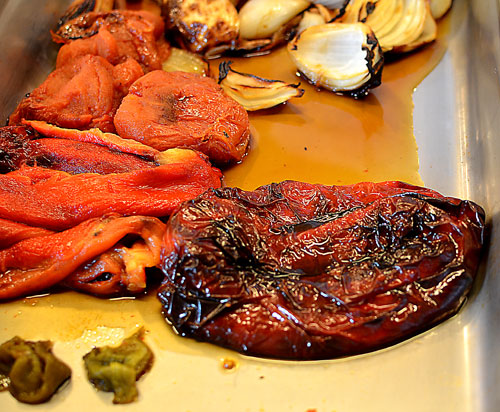 Roasted Tomato Salsa. Best salsa EVER.
3 tomatoes
3 onions
3 jalapenos
3 red bell peppers
Oil
1 tablespoon orange juice
Salt and pepper
1/2 bunch cilantro, chopped
Wash all vegetables and toss with a small portion of oil to coat. Place the vegetables in a roasting pan and bake at 325 degrees for approximately 45 minutes until everything is charred well. Allow to cool until able to handle. Remove seeds from both peppers. Blend vegetables and orange juice. Season with salt and pepper then fold in the chopped cilantro.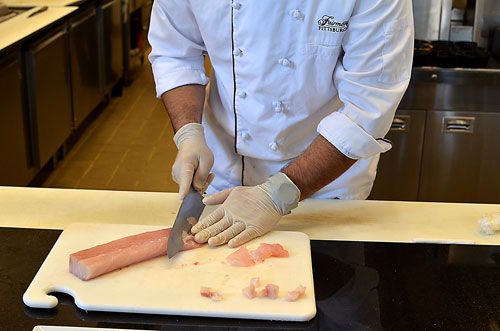 Are you a sushi fan? Well, this is not sushi, but it's raw fish cooked by juices. Ceviche.
White fish (bass, snapper, or yellow tail), sliced sashimi style
Jalapeno, brunoise
Shaved garlic
Basil
Cilantro
Salt
Green onions
Shaved red onions
Red pepper, brunoise
1 tablespoon each of fresh lemon, lime and orange juice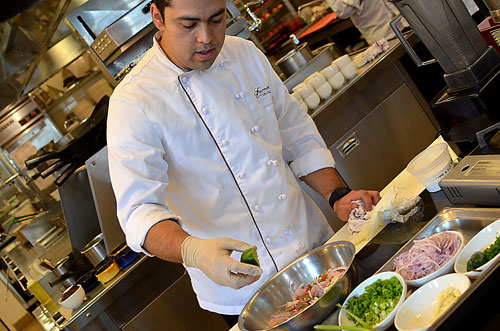 Mix in all ingredients and add the citrus juices a few minutes prior to serving.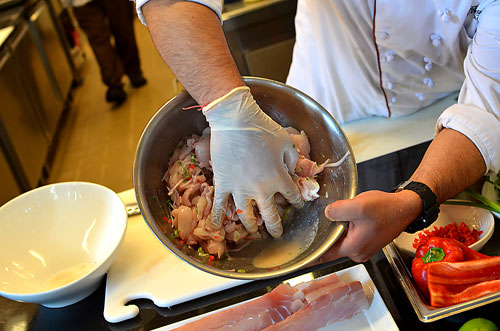 The juices will start to cook the meat. You will see the pink fish turn white.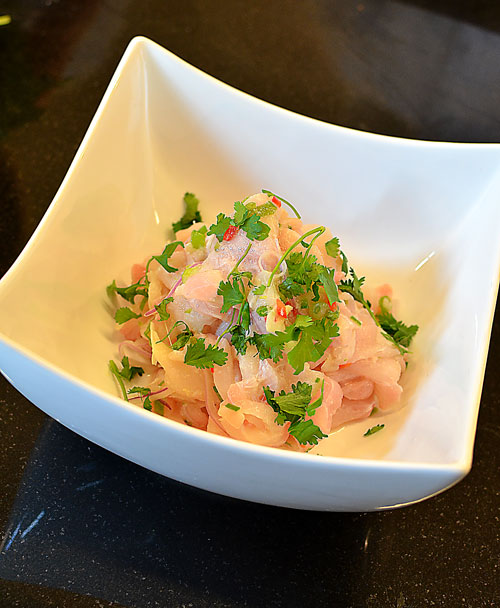 Sprinkle with fresh cilantro.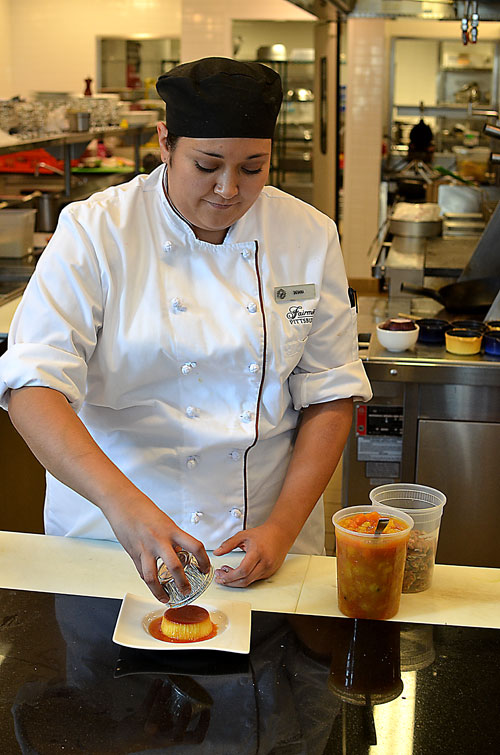 For dessert, Flan. As much as I love custard and caramel, I'm not a fan of flan. However, I have to say that this was good.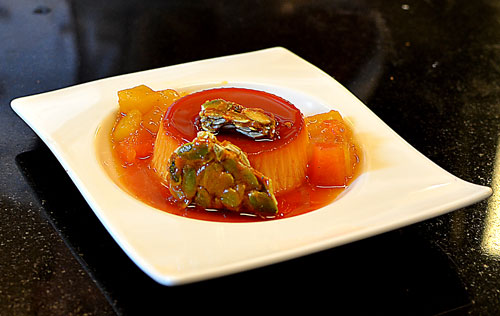 Spanish Cinnamon Flan:
1 1/2 cups sugar
2 tablespoons water
1/2 lemon, juiced
2 cups heavy cream
1 cinnamon stick
1 vanilla bean, split and scraped
3 large eggs + 2 large egg yolks
Pinch of salt
To make the caramel: Have ready a 2-quart round flan mold and a large roasting pan. Combine 1 cup of the sugar and 2 tablespoons of water in a heavy-bottomed pot.
Place over medium-high heat and cook until the sugar begins to melt. Swirl the pan over the heat until the syrup darkens to a medium amber color, about 10 minutes. Do not stir with a spoon.
Remove from the heat and immediately add the lemon juice, swirl the pan again to combine, and then pour into the flan mold.
Tilt the mold so that the caramel evenly coats the bottom and a bit up the sides. Place mold in the roasting pan and set aside.
Preheat the oven to 325 degrees. Bring a kettle of water to boil for the water bath and keep it hot.
Combine the cream, cinnamon and vanilla in a small saucepan over medium-low heat. Bring the cream to a brief simmer, stirring occasionally. Take care not to let the cream come to a full boil to prevent it from spilling over.
In a large bowl, cream together the whole eggs and yolks with the remaining 1/2 cup of sugar and salt. Whisk until the mixture is pale yellow and thick.
Temper the egg mixture by gradually whisking in the hot cream mixture (don't add it too quickly or the eggs will cook).
Pass the mixture through a strainer into a large measuring cup to ensure that the flan will be perfectly smooth. Pour the custard into the caramel-coated mold.
To create the water bath: Pour the hot (not boiling) water into the roasting pan to come halfway up the side of the mold; be careful not to get water into the custard.
Carefully transfer to the middle oven rack, and back for 30 to 45 minutes, until the custard is barely set and just jiggles slightly.
Let the flan cool in the water bath, then refrigerate for at least 4 hours or overnight.
When you are ready to serve, run a knife around the inside of the mold to loosen the flan. Place a dessert plate on top of the flan and invert to pop it out. Done!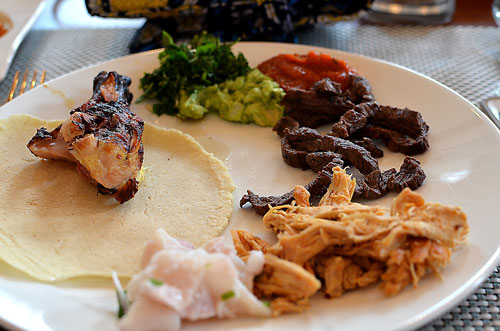 My finished plate.
Time to eat. In the center of the dining room, they have, what they call, a "communal table." We all took a seat and started to enjoy our meal. May I have another Margarita?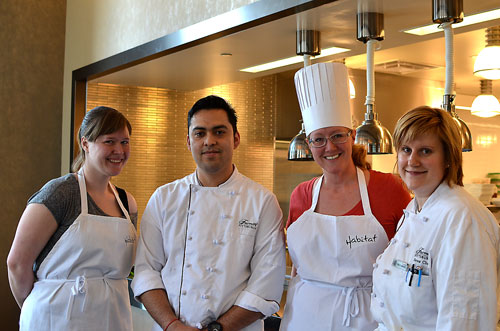 In this picture from left to right: Nicole, Chef Luis, Chef Jenny <wink>, and Chef Paula.
We had a blast. Not only did we get to enjoy a delicious dinner, we met many wonderful people from the chefs to the lovely ladies at our table. How fun!
The Habitat is the second restaurant to make my Pittsburgh Favorite list. Outstanding. "The experience is one to share."