Happy First Day of Fall!
This time of year is awesome. I really enjoy it for the the vibrant orange and yellow colors, and for the smell of baking. Even if it's colder outside our senses are filled with warmth. Not to mention, I love Halloween and Thanksgiving.
This is my first attempt at stew. I have to tell you, I'm not a fan of stews. Mainly, because it has cooked carrots in it. I have no idea why, but I'm not a fan. In my humble opinion, carrots are best served raw dipped in ranch dressing. Glen, my significant other, loves a good stew. So, I thought, "I'll make it for him." And, I thought, "I'll add beer. Maybe that will make it all the better."
With a little research on the Internet, I reviewed many recipes. A few from Food Network, Food.Com and AllRecipes. There are a lot of stew recipes out there. I needed to make it my own, but how? I dig Pepperidge Farms Puff Pastry Sheets. I use those for all kinds of things, especially, my baked brie that I make over the holidays. The pastry sheets are super easy to use. If you haven't tried it, I highly recommend you get some.
Being this is my first time at stew, I should call it Virgin Lamb Stew, but who knows what kind of spam comments I'd get. Er… I'll end it here and get on with the show.
You'll Need
1 pound of smoked bacon, chopped
3 to 4 lbs of boneless leg of lamb or beef for stew
1/2 cup of flour
1 large onion, diced
6 cloves of garlic, crushed
2-3 sprigs of fresh thyme leaves
2 Guinness (one for the recipe and one for you to drink)
4 bay leaves
7 cups of beef broth
3 carrots, chopped
4 potatoes, chopped
Cornstarch, as needed
Salt and pepper to taste
For Pastry
Pepperidge Farms Ready to use Pastry Sheets (two sheets per box)
1 egg
1 tablespoon of water
Let's get started…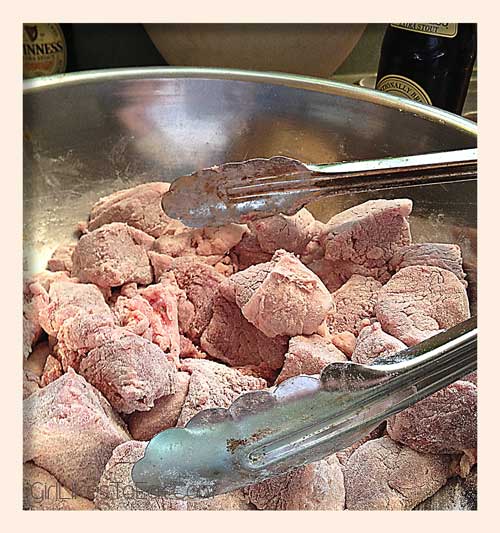 In a cast iron skillet cook your bacon. Transfer it to a paper towel and let it cool before chopping. Keep the bacon grease in the skillet.
While you cook your bacon, cut (cube) up your leg of lamb (or beef). Toss it together with the flour, a little sea salt, and fresh ground pepper until your meat is nicely coated. That's what he said.
Once your bacon is cooked, brown the meat pieces on all sides and toss into a five quart dutch oven, or stock pot.
 The bacon should be cool enough to handle. Roughly chop it up and toss it into the pot with your meat.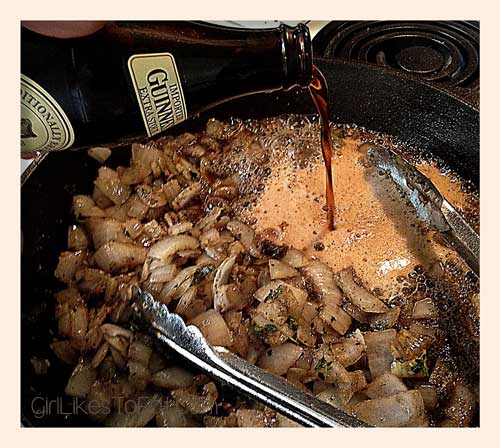 In the same skillet, sauté your onion, garlic, and thyme for about five minutes over medium heat. Pour in your Guinness to help scrape up all the goodie bits sticking to the bottom of the skillet.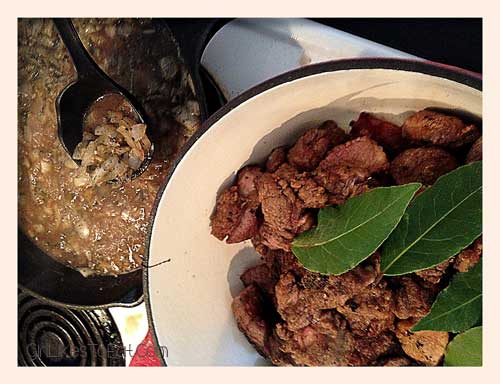 Toss it all into your pot with the meat and bacon.
Add the beef broth and bay leaves. Bring it all to a boil. Reduce the heat to medium-low and simmer for 2 hours or until the meat is nice and tender.
Add in of carrots and potatoes. Mix your cornstarch with a little water. Bring the stew back to a boil. Add in a little cornstarch mixture at a time. Take baby steps. This will help thicken your broth. I put in a tablespoon every few minutes until I like the consistency. The broth should be a little creamy but not overly thick.
Continue to simer over medium-low heat for about 15-20 minutes, or until potatoes and carrots are tender.
Remove the bay leaves before serving.
The Umph
Follow the instructions for thawing on the Pepperidge Farm Pastry Sheet box. I usually set it out on the counter before I start to prepare the stew.
Once the pastry is thawed, 
Preheat the oven to 400 degrees. Beat an egg and a little water together for the egg wash.
Here are two ways you can bake the stew in a puff pastry:
In a 16-ounce oven safe dish, spray with PAM. Place one puff pastry into the bowl
 like a pie crust; wrapping over the sides. It doesn't have to be a perfect fit. 
Add in a scoop (about 3/4 to 1 cup) of stew.
 Fold your pastry over the stew and pinch dough to seal shut.
Or, before placing the pastry sheet in the bowl, first scoop your stew into it. Cut the pastry sheet in half and place on top. Pinch the dough around the sides of the bowl to seal shut.
For either method, brush the top with the egg wash. Place the bowls on a baking sheet, and bake for 25 – 35 minutes, or until golden brown.
Side note: Oven-to-table bowls are a must! I love that I can use it for everything. From eating cereal to baking a pot pie. I only have two, but want more. I've added a set of four Le Creuset Stoneware Soup Bowls to my wish list. I'm hoping Santa brings me these this year.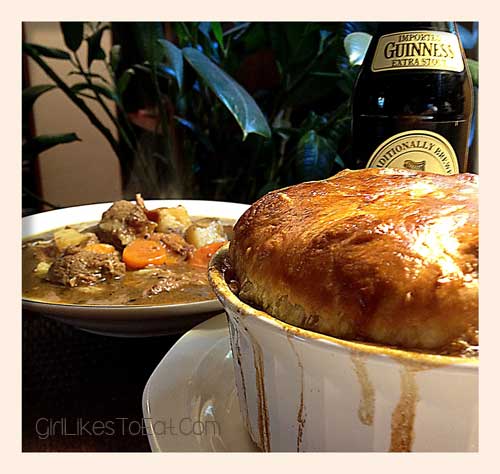 I'm hungry!
This recipe serves 8-10, depending on the size of your bowls. Since I freeze the majority of it, I only use one box of pastries. If you plan to use all 8-10 servings in one meal, you'll need to buy more than one box of pastry sheets. Use one sheet per bowl. Of course, you do not need to use the puff pastry. You can serve it in a bowl all by itself with a sweet crusty bread. However, the pastry really makes the dish.
Glen always pokes fun at the fact I never cook the same thing twice. Since blogging, I need to make sure I have something to write about. He said the stew was by far the best thing I've made, and has requested I make it again for his Birthday. Beginners luck! But, I truly believe that the secret ingredients are the cast iron skillet, the smoked bacon, and the puff pastry. The iron skillet gives it that rustic flavor, the smoked bacon makes it smoky, and the puff pastry makes it gourmet. Not to mention, the Guinness does make it all the better.
Let the soup & stew season begin.