It was a co-worker's Birthday, and he just loves my stuffed banana peppers. I thought I would make him a batch. A prepared dish can make the best gifts. Sure a sparkling bobble is nice, but homemade is by far my favorite gift of all. It warms me to know that someone took the time to create me something from their heart.
This is my sister, Deena's recipe only I add in lemon juice, beer, and use sweet and hot sausage. The lemon brightens the flavor, and instead of using all hot sausage, I mix half and half with Italian sweet sausage. I also use my own homemade tomato sauce (see Alternative to Canning Tomato Sauce recipe).
You're going to need three Coronas to help put out the heat.
You'll Need
1-1/2  pounds of ground hot Italian sausage (If you like it hot, only use hot sausage and increase to 3 pounds)
1-1/2 pounds of sweet Italian sausage
2 cups of Italian bread crumbs
3 eggs
6-8 cloves of garlic, crushed
1.5 teaspoons of lemon juice
1 cup of sweet onion, diced
10 banana peppers
3 cups of tomato sauce
1 cup of Corona
2 (6.67 oz.) packages of Provolone cheese (about 16-20 slices)
Let's get started…
Mixing
With your hands mix together both the sausages, bread crumbs, eggs, garlic, lemon juice, and onion.
Cutting
Before we start cutting, grab your beer. I have a funny side story to tell you about the above picture.
Glen wasn't home to help take photos. I needed both hands to cut the banana pepper, and I wanted to demonstrate it for you. How could I possibly do that? After a few head scratches, I took my iPhone and placed it on a shelf overlooking my counters with the camera side down. Since the screen only recognizes human fingers, I had to figure out a way to take a picture without using my hands. I then took a rubber spatula and put the handle side in my mouth. With the rubber side, I pushed on the camera button on the screen. It wouldn't work at first but soon discovered if you rub the camera icon from one side to the other, it will snap one off. I wish I had a picture of me. I'm a little crazy. Ha!
Okay, back to the recipe.
Slice the stem off of each banana pepper and discard. Using a small paring knife, cut around the vein and pull out the seeds as shown in picture above. Rinse peppers in cold water and pat dry with a paper towel. To help alleviate the fumes in your eyes, nose, and throat, cut it under cold water.
Stuffing
Hold the banana pepper in your fist at the top to help it from splitting. Carefully poke mixture in each pepper using one finger to help push it down. Don't force it. It's okay if it doesn't make it to the bottom.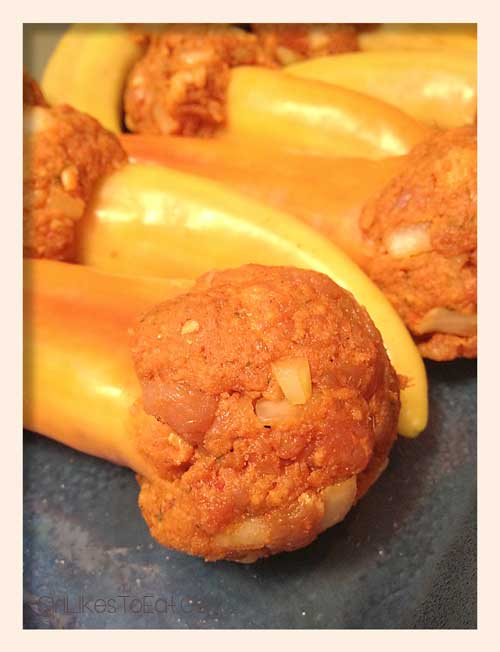 Once stuffed, add a ball at the top with mixture around the edges. The reason I do this is because I can not get the mixture all the way to the bottom of the pepper. It helps make it meatier.
Cooking
Preheat oven to 400 degrees.
Spray a 4-quart baking dish with cooking spray. Place your stuffed peppers in the dish. Stop drinking and mix your Corona and tomato sauce together. Pour over your hot stuffed peppers. Cover with foil and bake for one hour.
Reduce oven to 350 degrees, layer the Provolone on top, and bake uncovered for additional 15 minutes.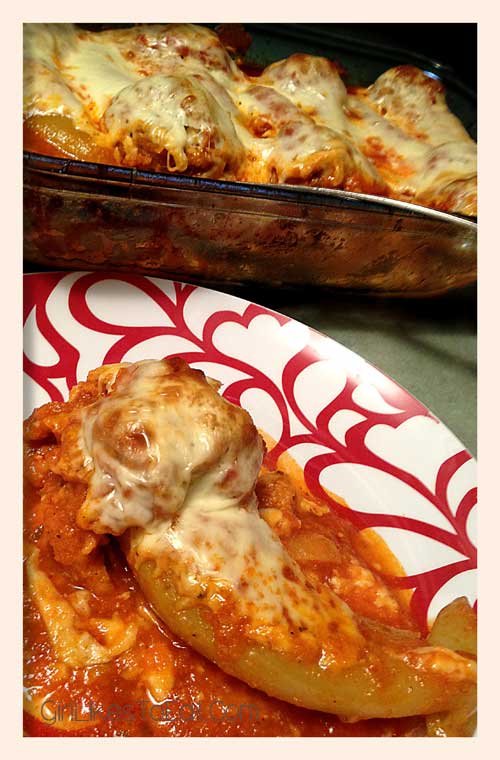 Done! Serve at a tailgate party or gift to a friend.
Tip: After handling banana peppers, wash your hands in lemon juice, soap and water. This will keep your hands from burning.