This potato salad and the Kale salad are great for hot, outdoor picnics because it does not call for mayo. It calls for beer. And, who doesn't like beer? I'm not a potato salad fan, but I have to say, "I really love this."
I'm not a fan I guess because most people use Miracle Whip, and I'm always hesitant to eat a mayo based salad on a hot day, especially, when it sits out for more than an hour. This salad has a longer picnic-table-shelf-life.
Let's get started…
You'll Need:
1 (24 oz.) bag of Fingerling potatoes
4 cups of baby arugula, or chopped kale
1 (11-12 oz.) package of grape tomatoes (or cherry)
2/3 cup crumbled bacon
6 green onions, diced (about 1 bunch)
1/2 cup of chives
, diced

1 (4 oz.) package of Gorgonzola crumble cheese
Dressing Ingredients

1 package of Good Seasons Italian dressing mix

1/2 cup of white ale style beer
 (drink the rest)
2 tablespoons of Dijon mustard
2 tablespoons of Balsamic vinegar
3 tablespoons of extra virgin olive oil
Prep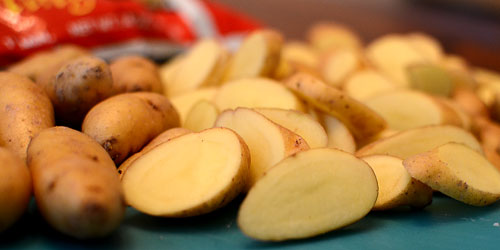 You can cut the potatoes anyway you wish, however, I like cutting them at an angle. It makes it look more fancy, I think.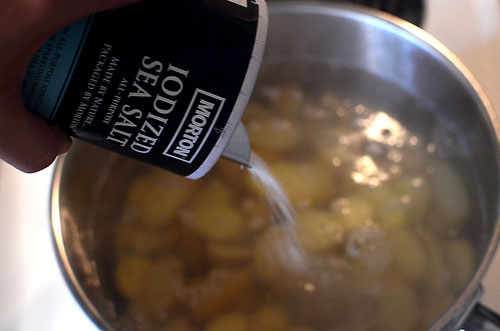 Boil the potatoes in a little sea salt for about 6-8 minutes, or until 'fork' tender. Drain and let cool.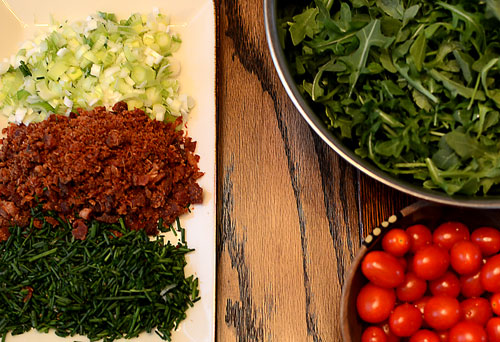 While the potatoes boil, chop up your chives and green onions.
For the bacon, I bought a big bag of Hormel Real Crumbled Bacon, and have been keeping it in my freezer.
You can cut the tomatoes in half if you like, but I think it makes the salad soggy. Not to mention, it's more work.
Whisk your dressing ingredients together. Very important: Consume the other 1/2 of the beer. Cooks don't waste!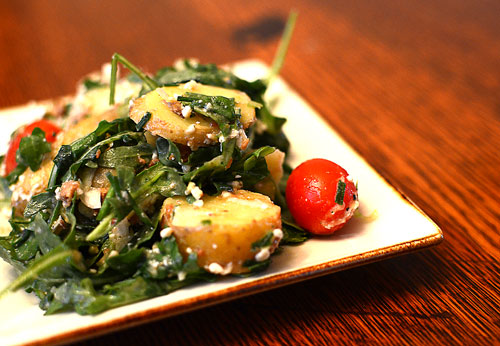 In a large bowl, toss in all the ingredients with the Gorgonzola cheese. If you do not like the blue taste of Gorgonzola, use feta. Feta gives the salad a milder taste.
Pour the dressing over the salad and gently toss.
Tip: If you use baby arugula, you can get everything ready the day before. However, wait to toss it before you serve it. The arugula can become wilted. Kale is more hearty and can withstand sitting overnight in the refrigerator.
Secret Ingredient: I used Holy Moses White Ale by Great Lakes Brewing Co.
Enjoy!