A delicious twist to Eggplant Parmesan.
The best market place in Pittsburgh is the Strip District. There's never a dull moment with lots of diversity from the food to the people. You can't help but want to peruse the wares of the outdoor vendors. You can find everything from Yinzer pride souvenirs, to fresh foods, to hipster cafés, to down-home diners. Fabulous good stuff!
The streets get packed on the weekends. Especially, on a bright sunny day no matter the temperature. Be prepared for a crowd. I love the outdoor market feel. There is no other place like it in the city.  When you're shopping in the Strip you're really a part of Pittsburgh's history.
My family and I go to the Strip at least once a month. We go early to find free parking. If you are willing to pay for parking, then you won't have any problems. We grab breakfast at Pamela's or Deluca's, both serve awesome diner food, before heading out to shop for seasonal yummies.
One place we always hit is Stan's Produce Market. He pretty much gives it away; very cheap yet great quality produce. It definitely beats sub-par grocery produce. I spent a total of $19 on two large eggplants, a large bag of carrots, three avocados, a bunch of leeks, onions, basil, a jar of already peeled garlic, and a few other things. That's just craziness. That is why I dedicate this recipe to Stan's Produce Market in the Strip. You inspired me to make this because I couldn't pass up a good deal.
No beer in this eggplant casserole recipe, but that doesn't mean you can't have one. I am!
You'll Need
2/3 cup of all-purpose flour
2/3 cup of Italian bread crumbs
2 Sicilian style eggplants, peeled and sliced
4 large eggs
3 cups of tomato sauce (I use my Alternative to Canning Tomato Sauce)
1/2 cup of Basil, roughly chopped. I just pull apart with my fingers.
1 cup of Parmesan cheese, grated
8 – 10 slices of fresh mozzarella balls
Lemon zest, about half of a lemon
Olive oil, as needed
Sea salt and ground pepper
Let's get started…
Put your tomato sauce in a sauce pan and cook over medium heat. If you are using my Alternative to Canning Tomato Sauce recipe, and it is frozen, there is no need to thaw it. Just take it from freezer to pot, and cover to help speed up the process.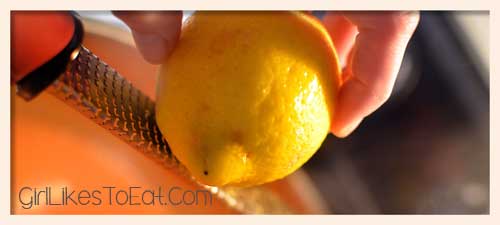 Add lemon zest to the warming sauce. Not much is needed at all. I do a little less than half of a lemon. As my friend Leslie says, "It seems to brighten the flavors."
Slicing
While your sauce is heating, slice your eggplant (about a quarter inch thick).
Mixing
Mix together the flour and bread crumbs in a flat dish. Beat the eggs in a separate flat dish. Coat each eggplant slice in your flour mixture then dip each one in egg wash.
Frying
Heat the olive oil in a skillet over medium-high heat. Transfer coated eggplant into the hot skillet, and fry for 30 seconds on each side. Transfer to a paper towel.
Layering
Spread a layer (about 1 cup) of warm sauce on the bottom of a 9×13 baking dish.
Top with a layer of fried eggplant slices. I overlap each slice.
Sprinkle basil over the eggplant (about 1/4 cup per layer).
Add a layer of Parmesan (about1/2 cup per layer).
Repeat one more time; giving you two layers.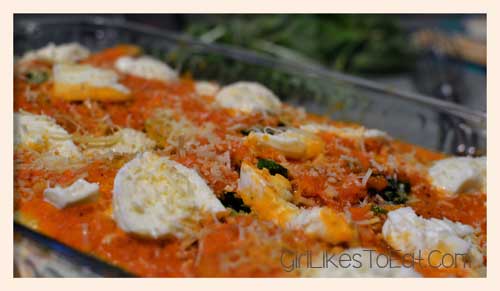 Top it off with about nine slices of fresh mozzarella; sporadically placed.
Baking
Bake at 350 degrees for about 45 minutes, uncovered
Let it cool for 10 minutes before slicing.
Cheese Pastries, The PUSHER
As Glen's father, Ed, would say, "You need a pusher."
Pusher Definition: A bread-like substance, such as, muffin, biscuit, or crusty bread, to help you push your food onto your fork.
Ha! I agree.
While your eggplant cools a little, cook your pastries.
For Pastries, You'll Need
Pepperidge Farm Puff Pastry Sheets (two sheets per box)
2/3 cup of Asiago cheese, grated (or any cheese you like)
1/2 of lemon, zested
2 cloves of garlic, crushed
Olive oil (about 2 tablespoons for drizzle)
Pastry Instructions
Thaw according to the instructions on the box. I usually set it out on the counter while I make the eggplant.
Coat a cookie sheet with cooking spray. Leave pastry sheets folded and place on the cookie sheet. Cut pastry sheet about one inch wide, and separate with a little space between each one.
Drizzle olive oil over the pastries. Sprinkle the cheese and garlic over the top. Finally, take your lemon and zest sporadically over the pastries. Don't worry about being neat with the ingredients. – The olive oil will soak up the flavors; infusing the pastry while it cooks.
Bake at 400 degrees for about 10 minutes.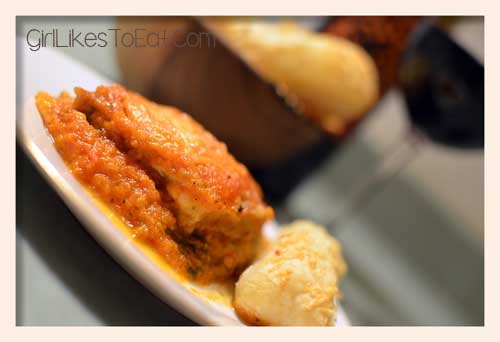 Done! Serve with a green salad and a Peroni Red. Your family is going to love it. Glen does not like Eggplant Parmesan and said, "This is amazing. I love the textures." I believe the secret is in the fresh produce and the lemon zest. A little zest brightens the flavors. That goes for life in general.
Depending on how big you cut the slices, the eggplant can serve 6 to 8 people. The Pusher makes about 18 -20 individual pastries.
Thanks for the yummy produce and great prices Stan.