Who doesn't love breakfast for dinner? I was craving a good bacon, egg and cheese sandwich. After work, I headed over to the grocer and saw, "Apple Smoked Gruyere." Boy, did that pull me in. -Snatched it and tossed it in the cart without a second look.
This is such a simple sandwich, yet you can do so much with it. Everything taste delicious with bacon.
Side note: Did you know that Bacon, Egg and Cheese has its own Wikipedia? It's a popular food group.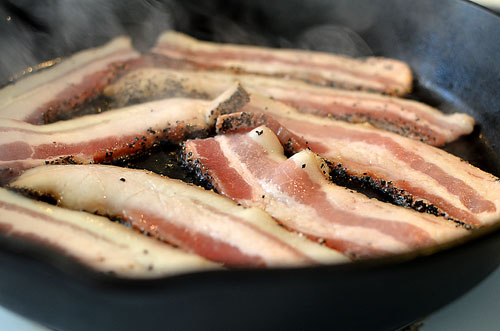 A Cast Iron skillet is the secret ingredient to making yummy eggs and bacon. I love the bubbly-crispy edges you get around the egg white. It's perfect every time.
For my bacon, I love apple smoked, or peppered, thick-cut bacon. I like all bacon, but I seem to buy those two flavors the most. I must be sucked into the marketing gimmick of "Apple Smoked." It just sounds so heavenly, right?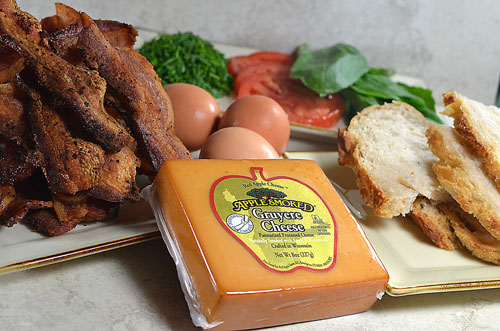 You can make your sandwich anyway you want. Top it with all your favorites, but this is what I did.
For the bread I used leftover Pain de Campagne from the weekend. Whatever you use, make sure it's nice and crusty. – A rustic bread helps make a plain sandwich gourmet.
Instead of lettuce, I used basil leaves and chopped up some chives. Using fresh herbs also helps make a plain sandwich pop.
And, the obvious…Bacon, eggs and grated Gruyere. – I just love saying Gruyere. I'm a big cheese fan, but this cheese is one of my all-time favorites. It melts so well, especially, freshly grated on top of the egg.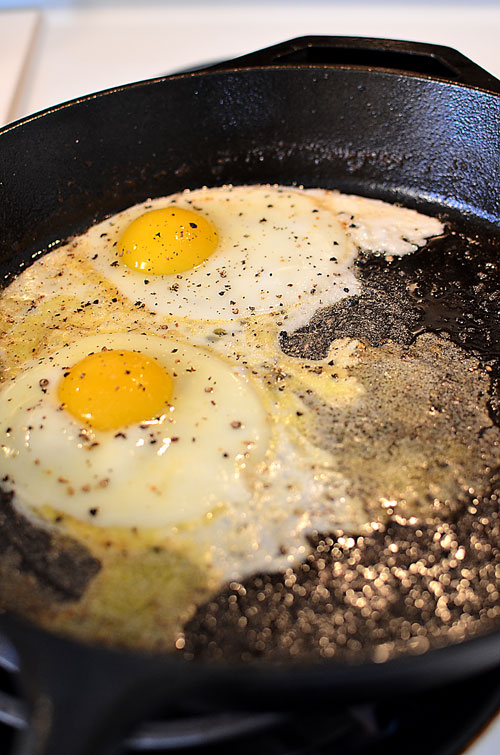 Just look at the edges of the egg start to bubble and get crispy. Moan-worthy.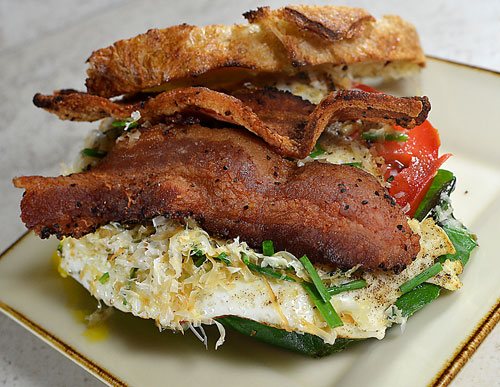 Toast your bread and lightly butter. I used a normal toaster, but you can butter the bread and toss in the skillet, or even grill it.
Layer on your basil, tomato, bacon, egg and sprinkle with chives. Add your 'cherry on top' the grated Gruyere. Done!
This is dinner and not breakfast, right? I'd pair this Apple Smoked sandwich with a cold Woodchuck Cider. It has a light apple flavor that's just the thing to wash it down. Enjoy!
How do you like your bacon, egg and cheese? Please share because this girl likes to eat.
Thanks for reading.