Update
It has been a busy and stressful fall for us. So busy that I haven't had much time to cook. Kinda bums me out. I also have several new recipes I need to get posted. It takes a lot of time to keep up on a food blog. From photography to writing witty banters. As much as I love it, it's been a low priority for me. Sad.
For the holidays, we head to our families for Christmas eve and Christmas day. No menu planning for me, but I have to bring something. I went hunting in my freezer and caught a few racks of ribs. I was thinking, "I don't have the time to make this recipe, but ribs sound yummy. What can I do?"
I'm actually going to make a version of this in the slow cooker for Christmas. One would think that slow cooking would take longer, but this will cut the time in half. You will not need to marinade, use as many ingredients, or have as many steps. So why not just always make ribs in the slow cooker? Well, I still prefer the recipe below because I prefer dry ribs with a dipping sauce. If I had a grill, that would be the best way.
Let's get started
Obviously, the full rack of ribs will not fit in your slow cooker. I'm going to cut three ribs together, and toss in the following ingredients.
2 Rack of Ribs, cut
1/2 Cup of dark brown sugar
1 teaspoon of crushed red pepper
1 teaspoon of Old Bay
1 medium onion, diced
1 bottle of dark beer
1/4 cup of honey
1/3 cup of Worcestershire
1/4 cup of white wine vinegar
Cook on high for about 4-5 hours, or until the meat is nice and tender (falling off the rack). That's it!
I hope you enjoy your holidays. Peace to you and your family.
Original Post
In the past, the only way I've made baby back ribs is on an open campfire with just a little season salt and ground pepper. However, for Mother's Day, I had to add a BBQ sauce for my favorite mother-in-law. Not a fan of BBQ, I had to really put my thoughts together on this recipe. Of course I wanted her to love it because it is for her after all, but I also wanted to enjoy the ribs. I'm cooking it after all.
Hmm. Where do I begin. The rub…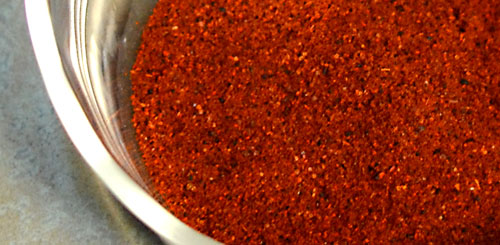 A mixture of spices make the world go round. I love the unique smells and flavors of each of them.
You can do this a few hours before, or at least one hour before cooking. Better still rub down your meat the night before and let it chill out in the refrigerator.
Rub Ingredients
1/2 Cup of dark brown sugar
1 teaspoon of ground cloves (I buy whole and ground myself. Makes me feel like a chef, I guess)
1 teaspoon of paprika
1 teaspoon of crushed red pepper
1 teaspoon of green jalapeno seasoning
1 teaspoon of Old Bay
1 teaspoon of ground thyme
1 Tablespoon of chili powder
1 medium Mayan onion, grind in a blender for juices
Mix all of the above together.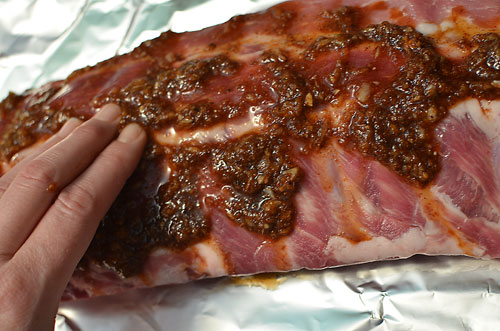 Place a rack of ribs on a long piece of aluminum foil. Rub both side of the rack, making sure to cover the meat.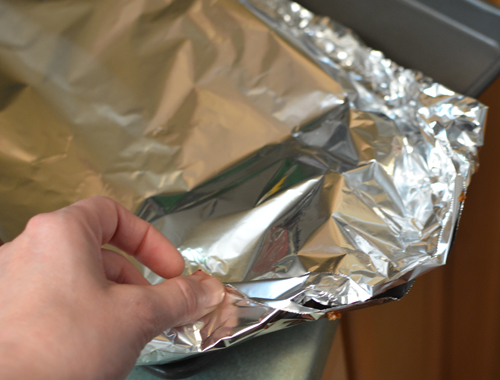 Take another long piece of foil and set it on top. Pinch and fold the layers together to seal. Place in the refrigerator over night or a few hours before cooking.
Time for the saucy stuff that makes you go yum…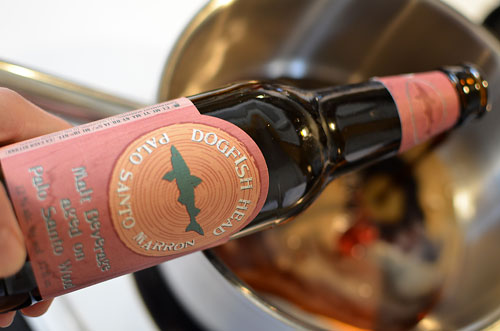 Grab a beer, and make sure you get one for yourself.
Sauce Ingredients
I used Dogfish Head that is brewed in Palo Santo Wood.
Palo Santo means "holy tree," and its wood has been used in South American wine-making communities. The caramel and vanilla complexity unique to this beer comes from the exotic Paraguayan Palo Santo wood…

via Dogfish web site
But I'm a strong believer that beer makes sauces better, so try it with another malt beverage if you choose.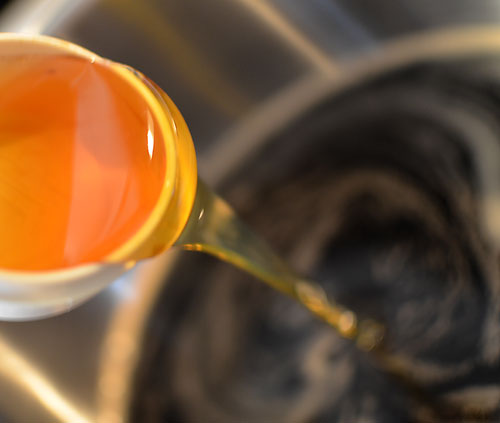 Add in…
1/4 cup of honey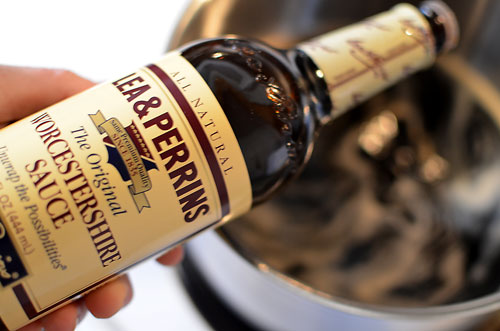 Add in…
1/3 Cup of Worcestershire. I love Lea & Perrins. L & P is like Heinz is to ketchup. – Nothing better.
1/4 Cup of white wine vinegar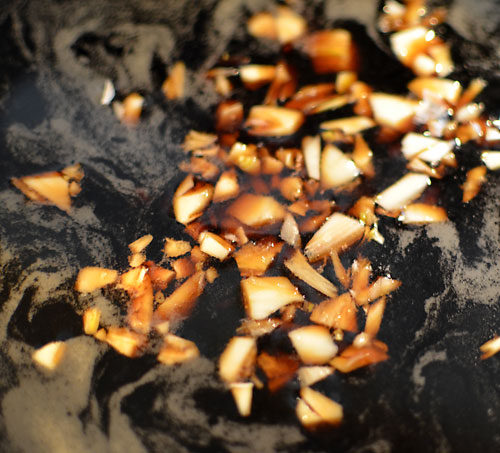 The remaining ingredients…
5 garlic cloves, chopped
6 green onions, finely chopped
1/4 Cup of dark brown sugar
1 Cup of Heinz ketchup (I'll warn you now. Do not use anything but Heinz)
1/4 Cup of olive oil
1 Tablespoon of Chinese chili garlic sauce
Bring it all to a boil. Simmer over medium heat. Let it reduce and thicken for about five minutes. Set aside and cover.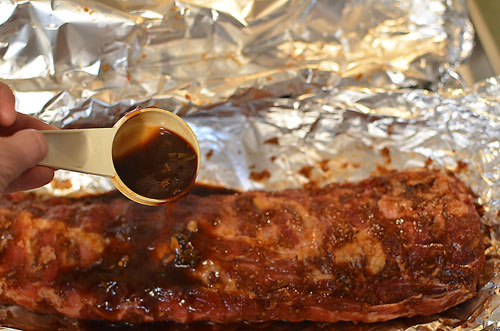 Preheat your oven for 250. Take the ribs out of the refrigerator and open the foil. Pour 1/4 cup of cooked sauce over the top. Reseal and place racks in a roaster, or on a baking sheet. Cook for 1 1/2 hours. Turn heat up to 275 and cook for another 1 to 1-1/2 more hours. or until ribs are tender and done.
Take the ribs out of the foil and place on a baking sheet to broil until skin becomes crispy.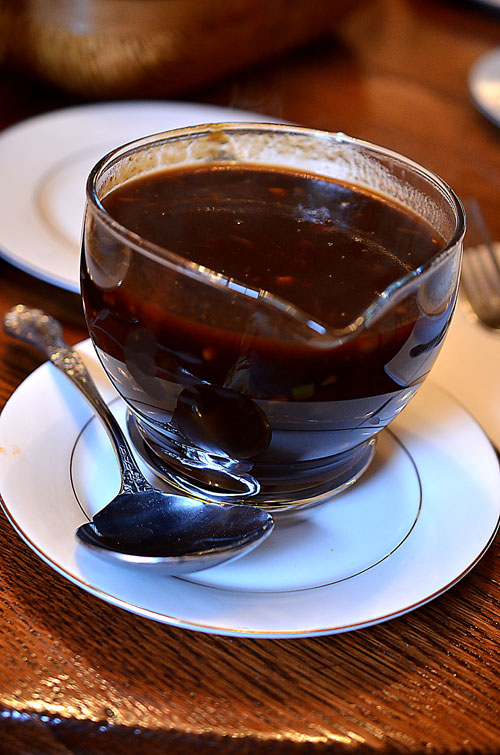 Warm up the sauce and put into a serving dish.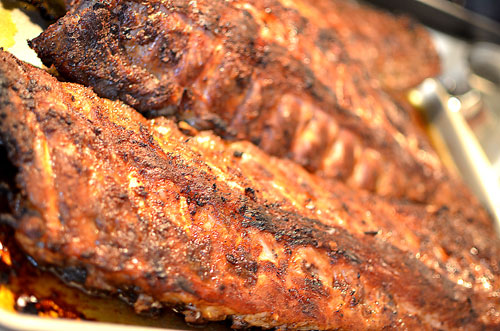 Slice the racks into four rib bone portions. I always allow each guest to add their own sauce. The recipe makes just enough for dipping three racks of baby backs. If you like your ribs nice and sloppy, double the recipe.
Fantastic. I love how they smelled up our house. So moan-worthy.
The reason for this recipe was inspired by mom. A conversation with my mother-in-law prior to making these delicious ribs…
Me, "If you were on death row, what would be your last meal?" Mom, "Lasagne. Well, I like everything. Hmmm. Well. I don't know. Oooo, I really like baby back ribs. Oh! And, I like shrimp scampi." – Stay tuned for the shrimp scampi recipe.
What's your favorite baby back rib recipe? Because this girl likes to eat.