My foodie partner, Nicole and I headed out for the evening for dinner and a movie. She mentioned this new place opening up in the South Side of Pittsburgh. A few month's ago, Winghart's Burgers & Whiskey Bar first opened in Market Square, and with much success, Winghart has opened a second location at 1505 East Carson Street (South Side). Who doesn't like a burger? And, a gourmet one to boot!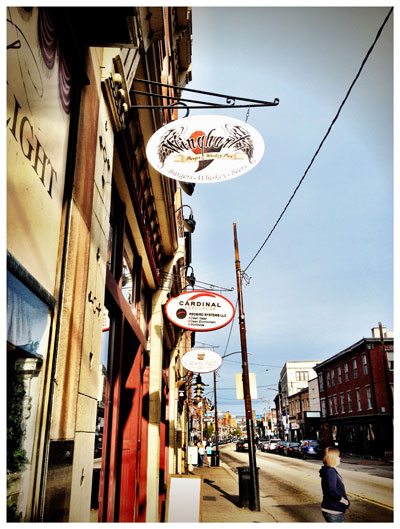 As you can see, it was a perfect day to enjoy a burger and a beer on the South Side. With Winghart's just opening, be prepared for a few kinks. Nothing I didn't mind. The staff were very apologetic, and their excellent customer service made up for it.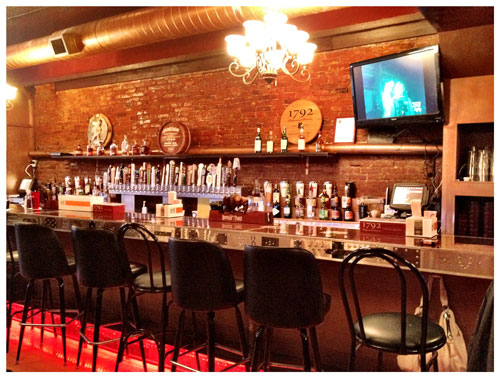 I hear this was the location of a laundromat or dry cleaners. It's hard to believe. The atmosphere is small and rustic. Thankfully, it was not busy. I'm not sure I would enjoy the space during happy hour. – Very tight, and I'm not much of a crowd girl.
I could be wrong, but looking behind the bar, I noticed more craft beers than whiskey. Which was fine by me. Whiskey is not something I drink. However, I would have liked to try a whiskey beer, such as 1488, an English strong ale. I don't believe they had anything like this on tap.
Since I'm always wanting to try a new craft beer, I had lots of questions. The bartender was very helpful in finding me one. The beer of choice this evening was Lagunitas an India Pale Ale. I liked it so much I had two.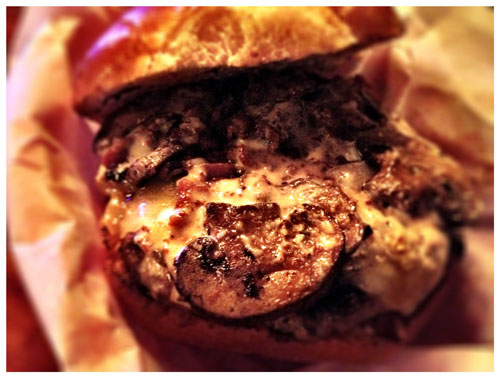 Nicole had The Market Square Burger ($8.75). This burger comes with bacon, mushrooms, and Gruyere cheese smothered in house-made honey mustard dressing. The bun is grilled. She let me try a bite, and the Gruyere was a perfect choice for this burger. Delicious!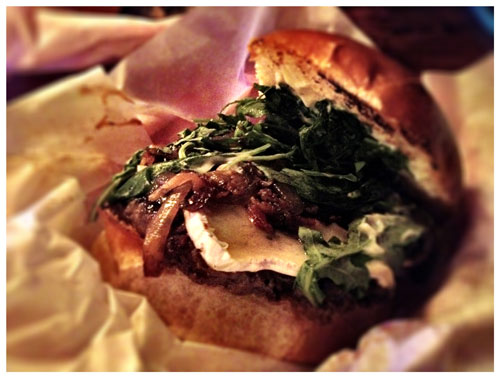 I had The Shipwrecked Burger ($12). As the menu states, "this burger has a very sophisticated taste." So, I had to have it. On top of a grilled bun we have Brie, caramelized onions, bacon, arugula and white truffle aioli. Oh my, it was yummy. The blend of all those flavors melted together on my tongue. Moan-worthy. It is by far one of the best burgers I've had in a very long time. Not to mention, my Lagunitas paired well with this burger.
Winghart's menu consists of six different gourmet burgers, or you can always get a plain ole burger. Boring. They also have six types of wood-fired pizzas. – On my list for my next visit. You can also get soups, salads and sides.
Winghart's burgers definitely taste better than Burgatory.